Morning glory vines
Know-How to grow Morning glory, Morning Glory care, Morning glory growing tips, Growing morning glory in a container in this article.  You can grow this plant anywhere in your terrace garden, patio, or outdoor. Here are some easy ways to grow these annual vines and care by nature bring.
Morning glory is annual flowering  Climbing vines, which grow very fast,  they are some sweet potato's botanical family, but do not produce tubers.  Its stems are thin, and flowers of Morning Glory are trumpet-shaped,  which blooms in red, blue, pink, white, and magenta colors. In warmer areas, people put it in arch or pergola, or to cover the ground.  Its flowers slightly fragrance, butterflies, and hummingbirds are attracted to these flowers. These creepers are sticking to trees. Its heart-shaped leaves are bright green and buds are hard and unfolded in the morning, which blooms when finding in the sunshine.
Morning glory vines length is 5 to 15 feet, and this self-seed can also be easily done. It's blooming begins early Summer to the first frost. You can grow this plant anywhere in your terrace garden, patio, or outdoor garden.
*Note that its seeds are more poisonous if incorporated.

Classification Morning glory vines
Scientific name                    Ipomoea purpurea
Common name                     Morning Glories
Plant type                               Flowering plant
Sun required                          Full Sun
Soil                                             Sandy, Loamy, Any
Soil PH                                      6.0-6.8
Flower color                            Blue, white, Red, Purple, Pink
Blooming Time                       Early Summer/ Fall
Zone                                             7-9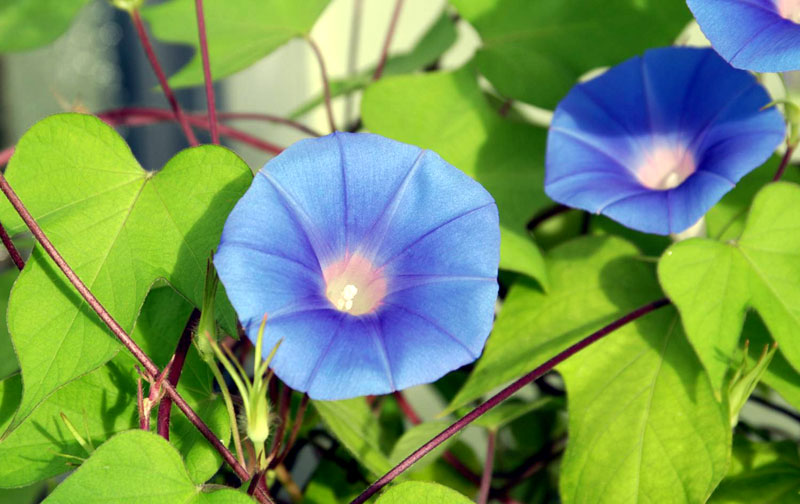 How to grow Morning glory
Morning glories are the best in the well-drained and moderately fertile soil. You can grow anywhere these plants, but for this, the neutral soil of pH 6.0 to 6.8 is better. The 

organic

-rich soil is not required for this.
These annual vines prefer full sun, so when selecting it, choose a location where the sunlight is coming directly. A place where there is protection from cold.
4 to 6 weeks before the last frost you can start its seeds inside the house, but sow directly on the ground results in good. When the soil gets warm up to 60 degrees F, then it is able to work.
Morning glories seeds are very harsh. So soak it in water for 12 hours before planting.
You will see in the morning that these seeds are ready for germination. these seeds sow at the depth of 1/4 inch from a distance of few inches. If you are sowing in the row, then the distance of 6 inches is enough. To maintain moisture, water the seeds well.
Growing morning glory in a container
Keep in mind, do not plan any large fences or lattice, otherwise, these annual vines spread out freely.
The same method applies to the morning glories in a container as the other vines. But keep in mind that lightweight containers will be suitable for this, it is easy to move around.
Fill the container with potting mix to apply this plant. Before filling the well-drained soil, make the surface of a piece of gravel or clay pot on the surface of the container, which should not block the drainage hole.
Morning Glories likes Sun, so keep the container in such a place where the sunlight arrives. You can also plant this plant in the hanging garden.
After applying the seeds in the container, water it well, but not over-watering. Morning glories develop well in dry soil. Adding mulch to keep moisture in the Morning glory vines. Read more.
Morning Glory care
The care of Morning Glories is quite easy annual vines. Initially, this plant needs to pay a little attention.
Moist soil is best for this plant, but the soil should not be wet. Give water one or two times a week during dry periods. If you grow in the container you give them extra water, especially in warmer areas.
Maintain the mulch and control of weeds.
These plants automatically grow again by the seed, to take care of it, as soon as the flower fades, separate it immediately. Remove his dead wines before falling deep frost.
Immediately after planting, use Balance Fertilizer once a month. Give this low nitrogen fertilizer every 4 to 5 weeks, as needed.
Use a lattice for the support of the climber, or put it on the edge of the wall or fence.
Pests and diseases
Morning Glories has very few bugs. Yes, in wet weather, it has to face many fungal problems, such as problems with leaf spots, stem rot, thread blight, and white blister. Some big animals such as deer, rabbits, etc. can damage it, because they love green leaves. You can use the lattice to get rid of these problems. Using chemical pest repellents and fungicides, you can get rid of the fungus.
Morning Glory varieties
'Heavenly Blue' is the most popular Morning Glory, in which flowers are rich blue colors and the throat is white. It goes up to a height of about 12 feet.
Read also:
Balcony garden. Cloves growing and caring tips. Cantaloupe Growing in containers.   Pansy flowers growing through seeds. How to get rid of garden slugs.  10 most Poisonous plants.
For Pin: