Poinsettia Plant
The Poinsettia plant is a commercially important plant. The plant is native to Mexico and there are over 100 cultivated varieties. Learn How to grow Poinsettia plant, poinsettia care, Growing Poinsettia and more about plants in this article.
It is particularly well known for its red and green foliage and is widely used in Christmas, floral displays. some consider it is holiday plant to enjoy during the month of December. It derives its common English name from Joel Roberts Poinsett, the first United States Minister to Mexico, who introduced the plant to the US in 1825.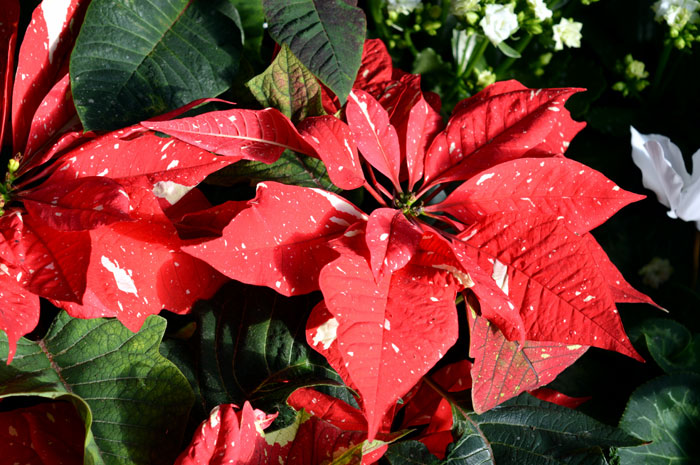 Poinsettia indoor plant
Euphorbia pulcherrima is a shrub or small tree, it is commonly grown as an indoor plant where it prefers good morning sun, the flowering poinsettia can be kept outside the range of colors from the familiar red to pastel yellow and vibrant bi-colors. It is native to Mexico, and they need a warm climate to thrive.
Scientific Name   Euphorbia pulcherrima
Foliage                  Red and Green
Height                  0.6-4 meters (2 ft –13 ft)
Watering             Avoid overwatering
Fertilizer             in a month
Sunlight               Plenty of sun avoid
Fact
Do you know Poinsettia Day is celebrated on December 12? On December 12, 1851, it was announced in honor of Joel Roberts Poinsett's death.

In fact, Poinsettias are not poisonous, but after eating it you can have a stomachache.
Poinsettia pollination
In Poinsettias, both male and female part, and can pollinate themselves with either other Poinsettias. If you keep your Plant outdoor, then insects may be naturally pollinated. They bloom in the winter, so they keep it inside the house, in such a situation they have to pollinate themselves. Brush against each flower gradually, and make sure to pollinate. After some time, you will see the poinsettia seed pods near stalk, When the plant starts to fade, then select poinsettia seed pods and store them in paper bags in a dry place. And after the pod has dried, place it in a paper bag, where the seeds will be easy to collect. Read more. 

How to grow Poinsettia plant
Choose a medium sized pot, fill it well by adding draining potting mixture, peat moss, and compost. It caters the plant to abundant nutrition and water absorption capabilities.

Place your young plant in the container during spring or summer. Cover the root system completely with the help of a potting mixture using a trowel.

Give the plant water until the water starts coming out of the container surface. Check from time to time dryness, re-water when the soil surface dry. 

For the development of Euphorbia pulcherrima need moist soil.

Place the poinsettia near the south-facing wall in the greenhouse. Let it get complete sunlight by the end of September. Cover Poinsettia with Cardboard Box for 14 hours each night beginning October. Remember the box does not touch the leaf. Continue to cover the plant overnight for the next 10 weeks.

Now set it to your courtyard or decorate it inside your home during the holidays in December. The natural short and cold day allows it to be bright red for several weeks.  

Read more.
Poinsettia care
Poinsettia cares you a better light for water and temperature.
Plants keep away from direct sunlight but good light required. Put your container near a sunny window and keep its environment constant.
Most of the people change the place of pot from summer and cold its damage to the plant.
Should also take special care of water, once the watering the plant wait when the soil begins to dry water again.
Overwatering will quickly damage the plant. Use organic fertilizer once a week. If keeping the pot instead of moisture much change the position of the pot.
Fall care
It a is a substance in the inactive state when all the leaves fall. This is the most critical period. Move the pot into a cool ventilated area. In the early spring season when you re-pot the other plants at for time you re-pot your poinsettia. For healthy poinsettia, you can use a larger container and potting mix too.
At the time of severe cold, you can keep the poinsettia outdoors. But avoid the afternoon of intense sunlight it loss are approachable.
Diseases
These plants are susceptible to several diseases, mostly fungal, but also bacterial and parasitic.
Read also: How to grow and care jade plants.  8 Best Frugal Gardening tips. How to grow Black Peppers. Growing and caring Onion.  Easter Cactus growing and caring tips. Growing Impatiens flowers in a pot. Kidney beans growing and caring in containers. Lily growing and caring tips. Apple gourd growing in containers. Okra growing and caring in pots. Houseplants care: Keeps your indoor plants healthy. 8 Best Indoor plants grow in water.
Happy gardening.
For Pin: