Tomato
learn  How to grow tomatoes, Growing Tomatoes in pots,  Pests, and Diseases of tomatoes in this article. The tomato plant is a small shrub, with a length of 100 cm or 3 feet usually. Several species of tomato are found in the vine; the length of the vine is approx 6 feet Tomatoes branches are covered with small white hairs.
Tomato has used as a vegetable its good effects on your health. tomato health benefits have an incredible effect on your health.  The tomato is the edible, red fruit of Solanum Lycopersicum, commonly known as a tomato plant.  Read more.
Tomato plant
Tomatoes plants developed anywhere even slightly warm or damp environments. if you have enough sunlight and enough water, you can grow it easily, and engaged in your patio to enjoy the red-red tomatoes. The summer season's tomatoes grow rapidly; it's easy to take care.  If you want to take the natural taste of the tomatoes you took your garden itself can develop homegrown tomato seeds you use organic compost.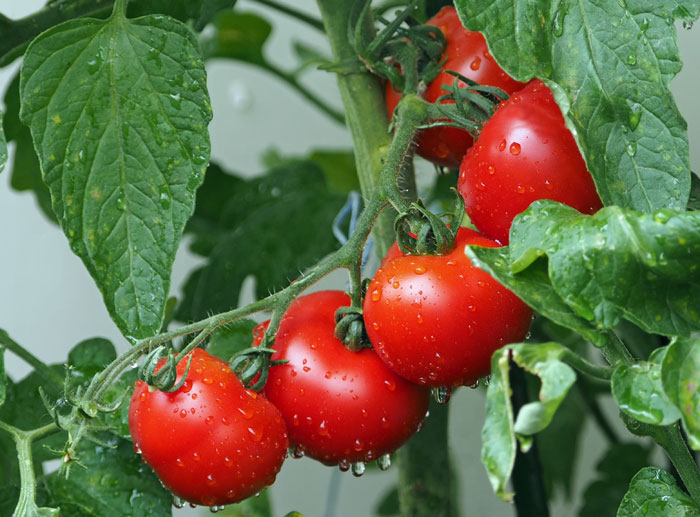 Classification
Botanical Name                         Lycopersicon esculentum
Common name                          Tomato
Plant                                           Vegetable
Sun exposure                             full sun
Soil type                                      Loamy
Soil PH                                        Acidic
Zone                                            2,3,4,5,6,7,8,9,10
Watering                                    Daily watering
Common names in countries
Main common names for tomatoes, in India Tomato, in Bangladesh Tomato, in America tomato, Tomast in Dutch, Tomate in French, German Tomato, in Portuguese Tomato, in Swedish Tomat and Tamatar in Hindi.
Nutrients of tomatoes
Tomatoes are also an excellent source of vitamin C, biotin, molybdenum and vitamin K. They are also a very good source of copper, potassium, manganese, dietary fiber, vitamin A (in the form of beta-carotene), vitamin B6, vitamin E, and phosphorus.

How to Grow Tomatoes
Plantation
How to grow tomatoes in your garden that it is very easy. tomato plant developed with a little care. You can buy a tomato plant from can nearest nursery or you can develop it by seed already developed plant is easy to implants. Whenever you bring a large-sized plant that can die after planting. If you want to develop by the seeds so you keep it seeding tray in planting and keep it in shade. Planting the seeds cold it should before the start, and when the plant gets a little developed than its implants. You must plant the seeds it should before starting cold. Spring season is a good time for the implants.  Spring season is suitable for transplantation. Well according to the soil and atmosphere of your area to transplant.  Read more.
Watering
Use daily water for tomatoes plant, which makes the land of tomato plants wet by 3 to 5 inches. Moisture is necessary for this, but the roots should not rot. Regular water is important during dry and hot weather. After a few weeks of transplantation, you should cover the roots with mulch, it will maintain moisture in its roots and protect its roots from rot.
Fertilizing
Too much fertilizer on a tomato plant that is required. Tomato plant transplants a week ago of fertilizer should be used. Tomatoes plants required especially phosphorus so that tomatoes are well flourished and thrived. Use formula that appears on any compost refers to the percentage 5-3-4 (5%, 3%, 4%). It means 5% nitrogen, 3% phosphorous and 4% potassium. Nitrogen and potassium are important for plant development. Refrain from giving more nitrogen in the plant. If you want to taste the natural flavor of tomatoes use organic seeds and fertilizer. Organic means it has no quantity of chemical. It is beneficial to your health.
Soil and location
Choose the place where the full sun and well-drained soil for a tomato plant. It is very important that the place where you are planting comes sunlight daily for at least 6 hours. If afternoon sun much bright you can put your container placed in the shade for a few hours. That helps plants thrive and flourish.  Read more.
Harvest
You keep the tomatoes in a long time in vines. If tomatoes are completely ripe you choose it and put in a paper bag to store in the cool and dark area. Ripe tomatoes the sunlight do not keep close to the Windows.
Ending the season
After ending the season with winds falling below the plant. You can fertilize your plant and the soil, but don't reuse the soil for next year.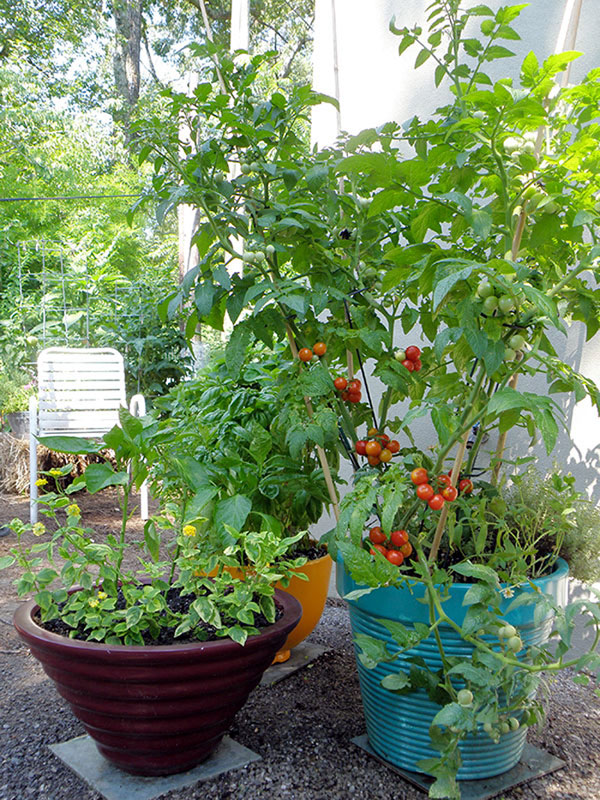 Growing Tomatoes in pots
Tomatoes in pots Growing is very easy, for success follow these rules. Keep in mind a tomato plant it can delve deeper into a container and hold soil well. When you put the plant plants leaves are out of the soil. If you plant in the deeper plant directly and fast developing in the direction of the sun. For development and support of plant, you can put a cage or wood strips around the plant.
If you do not have good soil and you do not have enough space, and you don't move the plant every year, in such a situation, putting tomato in a container is a good option. You can choose a large size container for planting tomatoes, as these plants grow well in large containers. You can prepare potting mix for yourself to fill it in. Its rich soil is good. The size of the pot is 18 inches better. Read more.
Pests and Diseases of tomato
Growing tomatoes production needed to be careful, when you see disease or pest, immediately treatment as soon as possible, this is a quick process. Otherwise, you may damage the crops.  These are the main insect's aphids, cutworms, flea beetles and whiteflies.
Fungal disease 
Late Blight is a fungal disease. It may occur in any part of the plant. The disease primarily occurs in the cold. On this sick leaves are Brown and gray color spots that, destroy the plant illness immediately.
If the soil is fungi then vessels are entered from the young roots, and when you are watering the plant vessels that move water to the roots and stems of the plant.
Mosaic virus 
Mosaic virus when invaded, this tomato plant tomato leaves distorted. These cause Yellow color and variegated foliage. Destroy the infected plants immediately.
cracking
When growth is faster the skin comes to crack. This is usually caused by water or detects unusual weather. So you need to be always in the tomato plant moisture with consistent watering and mulching.
Read also:  Container Gardening.  How to grow Cantaloupe in containers. Soybeans growing and caring guide. Pansy flowers growing and care guide. Growing Anthurium plant indoors. Mulberry growing and care tips. How to grow Cauliflower.  Peachtree growing and caring. Balcony garden flowering vines. Growing Plumeria plant Growing and care guide. Houseplants care tips. Living wall attraction of your garden. Growing Heirloom Tomatoes at home.
For Pin: