Cherry tree
Know Growing Cherry plant in containers, How to Grow a cherry plant, care, and more about this plant. Do you know sweet cherries can grow on your own patio? Looking at the red-red fruit, it seems you wish it grew in the house. It is possible, you can successfully plant the dwarf species of cherry trees to the containers. To thrive successfully, you should plant at least two trees, because the most cherry tree does not self-pollinate, it requires another tree for pollination. If you have a lack of space then you can get a plant from the nursery that fertilizes itself. The name of the sweet cherry dwarf species is Stella, which is self-pollinated. Read more.
The better way is that you can buy two dwarf species trees. This sweet cherry is like a thick, rich, and textured plumb. Another type of sour cherry is that which is not commonly used in food directly.
All its varieties are fertile, and they develop in 4 to 6 zones. The cherry tree usually gives fruit after 4 years, the dwarf species receive fruits a year ago. Here are some easy tips for planting cherries in containers by Nature Bring.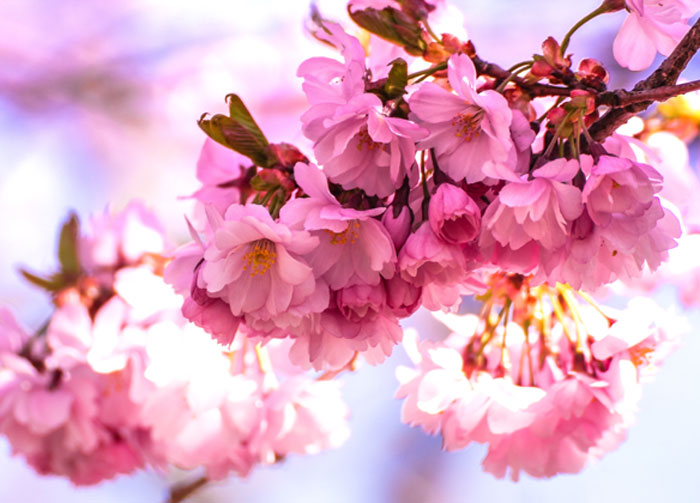 Classification of cherry tree
Scientific name    Prunus avium (Sweet Cherries) Prunus cerasus (sour cherry)
Common name   Cherry
Plant type              Fruit
Sun                         Full Sun
Soil                         Well-drained / Slightly acidic
Soil pH                   6.5-6.7
Zone                       4-7
Growing Cherry plant in containers
The most appropriate time to grows a cherry tree in early spring or late fall. At this time, the plant gets soft soil and high moisture, which is necessary for this tree.
Cherries prefer deep, slightly acidic, and well-drained soil with pH 6.5-6.7. They dislike the shallow and sandy dimensions.
Cherries plant can certainly be grown in the container, yes it is so important that the container that should be selected should be larger in width and depth.
The choice of place for this tree is important because it likes to Sun, Although acid cherries tolerate some shade They should be planted in a place where the circulation of air is good. Avoid planting them along near the walls.
Since dwarf species cherries grow in containers, therefore, the idea of restricted environments is reduced.
When you buy young plants for your container, that is suitable for your area climate tolerant plant.
Find some other species of sweet cherries plant that can pollinate each other.
For sweet cherry plant 35 to 40 feet apart, and 5 to 10 feet apart for the

dwarf.
Self-pollination cherry
The best variety of cherries is Stella, which completely self-pollinate. If you want to put non-self-polluting varieties with it, it will be able to pollinate other varieties, and you found Stella Cherry's fruit will be more delicious.
Self-pollinate veracities
Stella
Nabella
Morello
North Star
Duke
Lapains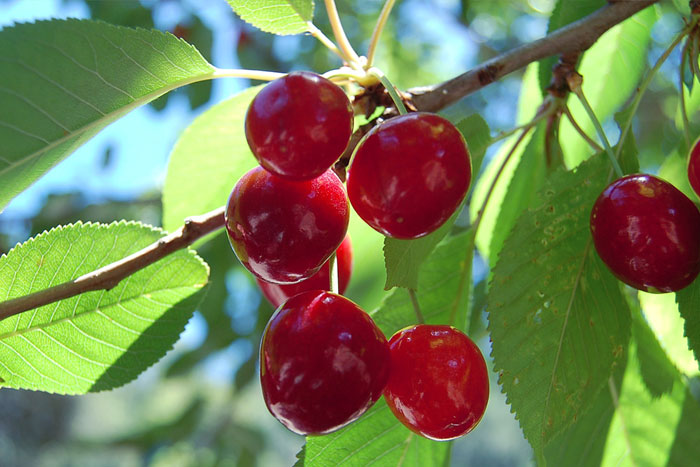 Cherry care
Planting the cherry in the container, the pot quickly dries out, keep the bark on the top surface of the pot to keep moisture. Mulch will help to maintain moisture in the compost.
Water should be given regularly after the fruit has arrived in the tree. Because if the water decreases then its fruits will get cracked. Regular watering spread its root depth and the plant will be strong and healthy. With shallow roots can get disappointing results.
As long as the tree does not produce fruit, it should be fertilized every spring, and then after harvesting, fertilizing should be done in each season. Organic seaweed feed affects it more. All Purple Organic Feed is ideal for this but avoids heavy feed.
To keep crops and fruits safe, the plant should be latticed around, because it is very fruitful for the birds.
 Pruning
Pruning is done during the growing season in cold, pruning at this time reduces the risk of getting silver leaf disease. Established trees require pruning of dead buses, damaged or contagious branches, which are done in late spring.
Pests and diseases
Aphids, Japanese Beetles, Caterpillars, pear slugs, etc. are common insects that harm them.
Its leaves develop a silver glow, red strips appear in cut branches. Continuous pruning in late August or early spring for its treatment.
Flower buds and immature fruits are the other problems, due to drought, waterlogging, or low temperature. Reduce watering for its solution, protect plants with horticultural fleece.
Harvesting cherry
The complete ripe fruit becomes dark, red, yellow, and when it fully ripened, its sugar content increases. Within one week the crop is ready, assess the situation, and harvest the fruits.
Prioritize fruit during the dry season, choose fruit easily so that fruit does not bruise.
Choose fresh cherries for immediate eating or store a seal in this plastic bag and freeze for one week.
Read also: How to make Bonsai. How to grow Plumtree in containers.  Growing Ridge Gourd in containers.  8 Gardening Tools for beginners. Prune your plants and shrub. Growing Heirloom Tomatoeseasy steps. Blue chalk stick, Senecio plant care. Blueberries growing and caring tips. Lavender growing and caring. During the Monsoon maintain your garden.
For Pin: