Kiwano Horned melon 
Horned Melon is exotic, with its marvelous taste and unique appearance. It also has many Healthy benefits, knows How to grow Kiwano Horned melon in a container, Growing Kiwano Melon, African horned cucumber weather conditions. 
Horned melon, kiwano, African horned cucumber is a tropical exotic plant that is native to Sub-Saharan Africa. It has a horn-like appearance that tastes similar to that of passion fruit. kiwano fruit is very juicy and sweet and sour in taste. To know more about Horned melon and its health benefits click here, we will be sharing information about growing Horned melon in the large and small area, terms, and condition required for growing Horned melon, soil type, weather conditions, precautions, pests, and medications.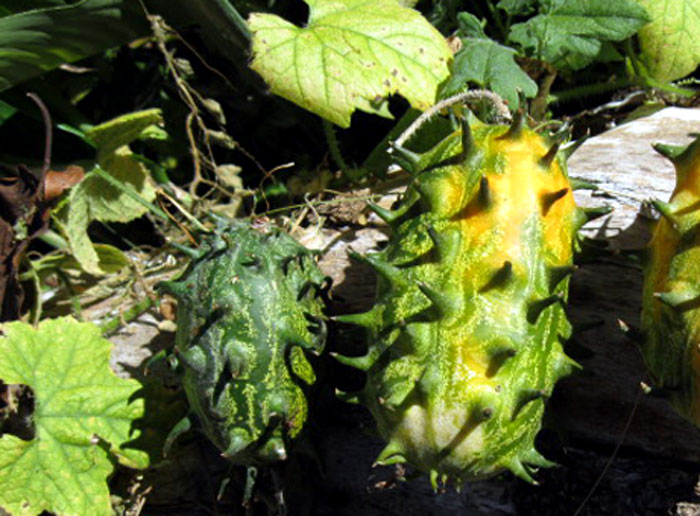 Growing information Kiwano melon
Read about the geographic location of African horned cucumber, where it is grown, at what temperature in what surroundings.
Horned melon is native to Sub-Saharan Africa. It is also grown in the United States, Portugal, Italy, Germany, Chile, Australia, and New Zealand. Since this tree is native to warm areas, therefore it cannot bare temperatures below 12°C and above 35°C at the seedling level. This tree's seedling thrives at a temperature of 20-35° C. Once the seed is sowed its plant can bear temperature above 35°C also. It cultivates largely in areas near the equator and areas above sea level.
read about the criteria required for how to grow Grow Kiwano melon, type of soil, appropriate temperature, and other weather conditions
Horned melon is a tree that does not require much attention. But some basic things that you should know are:
Temperature
its seed cannot thrive in temperature below 12° C and above 35° C.  It needs the temperature in between 20°C-35°C, but once its leaves start popping out it can bare temperature above 35° C also.
Soil and location
Kiwano melon flourishes in full sunlight, and well-drained and very good in small, acidic soils. When planting it, dig a few inches to add balanced fertilizer to the soil.
Any plant grows best in the loamy soil which is ideal for growing any type of plant. As it contains an appropriate amount of clay, stilt, water, and hummus. Though this type of soil is hard to find but if you want to know about the preparation of this ideal soil. don't worry you can grow Horned melon in clay soil also. Read more.
Weather conditions
In order to grow horned melon, you need to take care of its water intake. Make sure it has proper drainage and water doesn't stay in its roots for a longer time. Don't water this plant too often water it after 2-3 days interval. Remember only water these plants when the soil is dry that to not very much. It has a high ability to survive in less water if you put too much water it can rot the plant.
How to grow Kiwano Horned melon in a container
Horned melon grows into a big tree but can it be grown in small areas also? read about growing horned melon in small areas or containers.
Not everyone lives in warm climates if you live in cold climates and still want to enjoy eating this fruit. Then don't worry we have a solution for that also. Horned melon is a vine that spreads very much and also its fruits are like cucumber, therefore, you cannot grow this in a container but if you have a balcony garden or you do terrace gardening then you can surely grow it in pot place it in a sunny area and let the vine free to spread. Since the soil in the pot cannot mix naturally and get manures naturally you will have to prepare the soil after every few days. to know more about garden care read. This way you can enjoy horned melon at home.
Horned melon care
Read about diseases, medications, and other measures you need to take care of while growing horned melon at home.
It is suggested not to use any pesticides on trees as it can affect the fruit quality and its nutrients. Points you need to take care while growing any tree to make it healthy:
Do not allow not biodegradable waste near this vine.
If you want to dump biodegradable waste make a deep pit slightly away from the area of the reach of roots dump the waste and cover it with dry leaves and then cover it completely with soil.
Do not water the tree very often, water after every 2-3 days, and let it grow under natural conditions.
If necessary use pesticides that are mild only two times in the entire cultivation time i.e. one at the early stage when it starts blooming and others when it starts budding fruits.
You are allowing this vine to grow naturally under suitable weather conditions it reduces the risk of plants getting any diseases.
If you are growing this vine against its climatic factors and other requirements then you must keep a check to vine regarding the water intake and temperature.
Make sure you planted this vine in a dry place.
If the place where you live has a temperature below 12° C then make sure there are lots of filament bulbs (which gives yellow light) as it keeps the area warm which is necessary for its growth.
If the temperature, where you live, has a very high temperature say above 35°C then plant the seedling in a tray and once the leaf stage has arrived then plant it in the soil.
Make sure you give proper support to the vine to spread.
According to the instructions written in the packet, apply normal fertilizer in the ratio of 4-8-5 or 6-10-10 N.P.K.
As soon as the weeds appear around the plant, separate it by hand, it helps prevent cucumber mosaic virus and tobacco ringspot virus.
Kiwano fruit nutrients
Per 100gm, i.e. 1 kiwano fruit (horned melon) contains 88.97 g water, 7.6 g carbohydrate, 1.26g  fat, and 1.76g  protein other than this it also contains many vitamins and minerals like vitamin A, B, C and too essential minerals like calcium, potassium, copper, iron, magnesium, phosphorus, zinc. Read.
This was all about growing kiwano melon hope you liked our post.
To remind you of my growing tips, pin this image on Pinterest one of your gardening boards.
Read also: How to Grow Rambutan. How to grow Avocado Tree. Growing Aster perennial at home. Poppies growing and care tips. Coreopsis growing guide. Growing Pear trees in pots. Princess flowers growing in pots. Coriander growing and care tips. Peanuts growing in pots. Cardamom growing guide.
Thank you and happy gardening.
Pin it.