Sapodilla tree
The better it is to see the fruits of Sapodilla, it is equally superior to the taste and the attitude of health. This tropical evergreen tree is native to Yucatan and Guatemala. Learn Growing Sapodilla tree in a container, How to grow Sapodilla tree, Planting sapote, another name of Sapote (Chikoo), Harvesting  Sapota fruit, and more about this plant.
Sapote is grown in very large quantities in tropical areas which are mostly used for export. It can go up to 70 feet in its native place, but in Florida and California, this is very small, which is about 12 feet. You can grow very easily in the home gardens. Sapodilla is sweet like a peach. If you want to enjoy it in the house then you can develop it by propagation the Sapodilla plant. You can germinate seeds or grafting also.
Chikoo Trees do not grow very well in cold weather, however mature trees tolerate the cold, as long as the temperature is not falling regularly. The fruit of the sapodilla is yellowish-brown. Its leaves are shiny evergreen, and the flowers are white. Mature sapodilla usually produces fruits twice a year. After 4 to 6 months of flowering, mature fruits are obtained. Here are some easy tips for planting a sapodilla tree in containers by Nature Bring.
Overview of Chikoo tree
Scientific name                   Manilkara zapota
Common name                   Sapodilla, Chikoo, sapota
Plant type                             Fruit
Sun requires                          Full sun
Soil                                          Well-drained/ sandy soil
Soil pH                                   6.0-8.0
Zone                                        4-11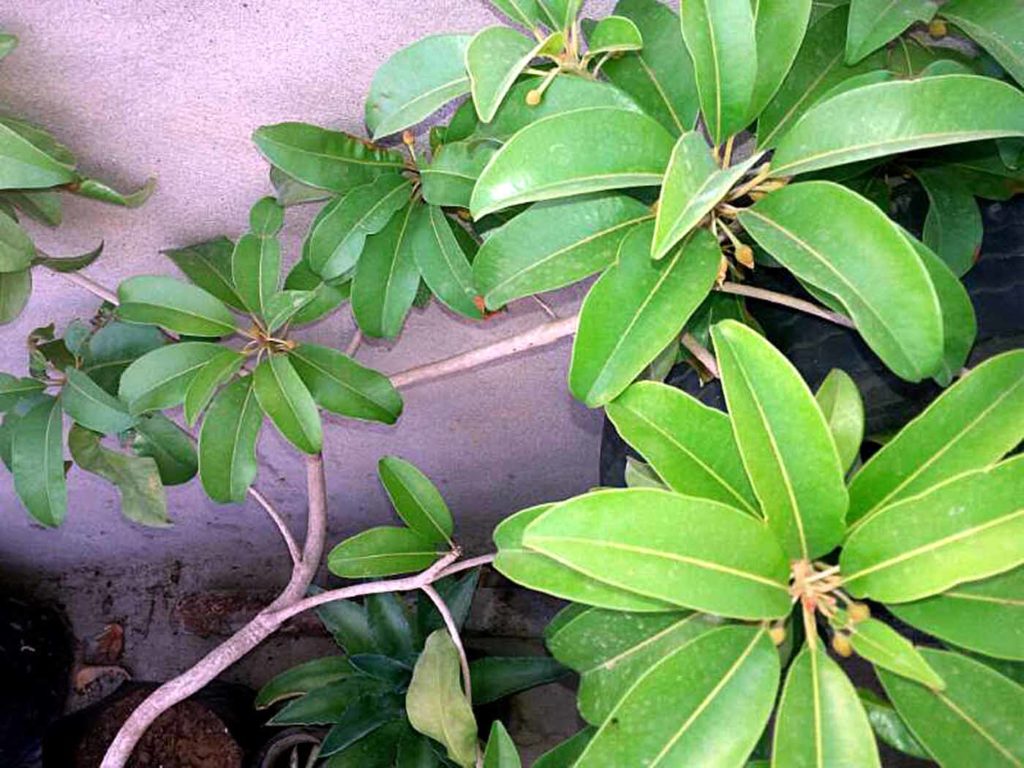 Others name of sapota (Chikoo)
Sapota (Chikoo) is grown in large quantities in Pakistan, India, Thailand, Malaysia, Cambodia, Indonesia, Vietnam, Bangladesh, and Mexico. Sapodilla is known misspelled in the Virgin Islands, Naseberry in Jamaica, Sapoti in Brazil, Chico in the Philippines Chicosapote in Guatemala, Mexico, Hawaii, and Florida.  It is known in Chikoo in northern India and Pakistan, Sapathilla in Sri Lanka, Sobeda in Eastern India and Bangladesh, Lamoot in Thailand, Laos in Cambodia.
Planting sapodilla
You can easily plant the Sapodilla Trees in the container if you give enough room to expand the roots of its plant.
For this, use a large size pot at least 18-24 inches in diameter and 20 inches deep.
Sapodilla plants prefer rich and well-drained soil. Prepare a mixture of soil, sand, and perlite for the pot, which can cause proportional drainage, because its roots do not like wet.
If the water stops in the pot, it can cause rotting roots in your sapodilla plant. Shiny containers are good to use, it will take less water. Terracotta pot absorbs more water.
The Chikoo tree looks indoor then chooses a window where the sunlight is coming, it is the best southern window for which both fruits and plants will get development.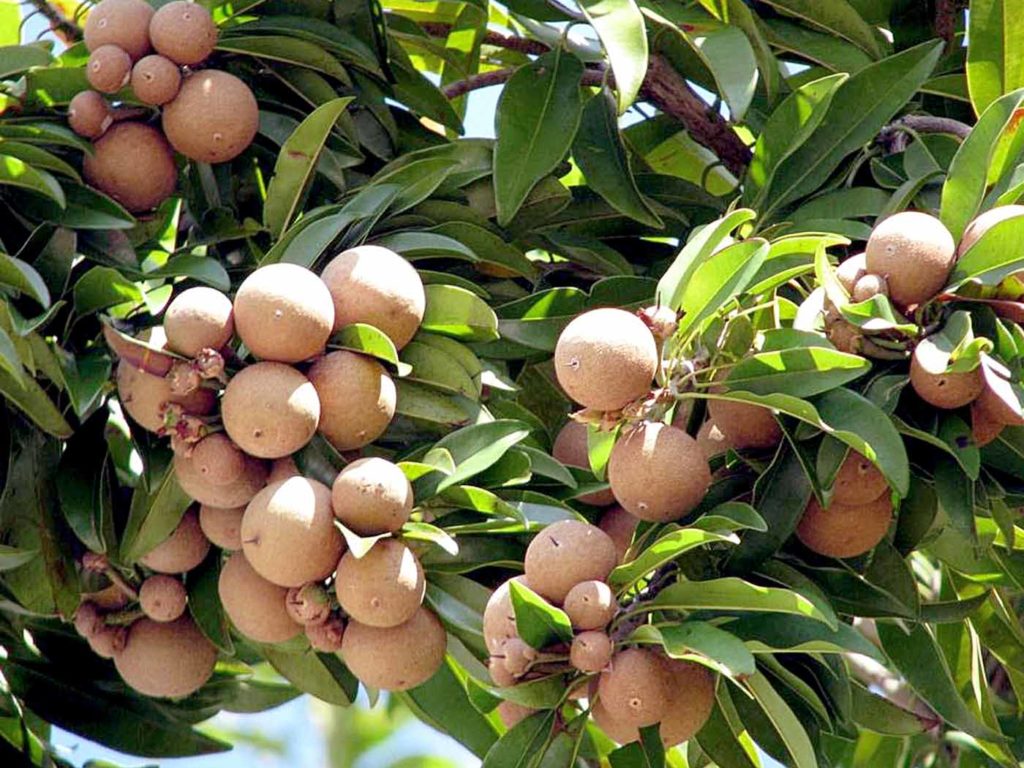 How to grow Sapodilla tree
The Sapodilla tree likes bright light and direct sun. If possible, keep this tree indirect light for 12 hours. Bright sunlight increases its productivity. However, they plant a little shadow. Choose a place that is free from cold and where direct sunlight comes.
This plant requires well-drained sandy soil. Once it is established, the drought-tolerant becomes.
To maintain water efficiency, mulch on the soil surface. It improves soil nutrients and structure besides water retention capacity.
Use fertilizer every year in March, July, and September, for this use 8-3-9 fertilizer or you should use other fruits fertilizer according to the instructions of packets.
They need less water for more mature trees, but irrigation in the dry season increases its productivity.
Punning and Shaping requires sapote trees. Every year after harvest

pruning

trees, cutting the upper branches and keep its height at 6-8 feet.
Growing Sapodilla tree in a container
To plant the Sapodilla tree, choose a healthy tree from a nearby nursery that looks insect free and strong. Choose a large container for this.
In the container, make a hole equal to three times the length of the root ball. Make the tree straight in the center and Push down on the dirt slightly to fill the hole. After dirt fills a thin layer of compost, it works as a fertilizer and mulch for the young tree. After that fill surrounding soil on the root ball.
Select the full sunny place of the container. Its plant requires 6 to 8 hours of sunlight.
Water the roots after planting, save tree trunk, and leaves from wetting. Keep in mind the water completely dry out, otherwise, there is a root of the rot. Give water to every other day for two weeks, Then water it once or twice a month for 3 months. Give extra water in the dry period.
After this, add fertilizer to the young plants, whether you wish to give fruit to the plants according to the instructions given in the

compost.
Harvesting  sapota
Sapota is difficult to say that seeing cropped, that crop is ready for harvest. However, the maturity of the crop is approximately 8 to 10 weeks. By the way, to know the maturity of the crop scratch the skin, the pulp color should be brown like cinnamon. Sapodillas should be kept at room temperature for 5 to 10 days to ripen sapodillas. The fruit should be eaten when it is slightly firm, not mushy. good condition of fruits can be kept in the fridge for one week.
Pests and diseases sapote
Chikoo is almost insect resistant but it is compulsory to save it from the cold. There are some insects that trouble sapodilla like Banana spotting bugs, Caterpillars. This problem can be tackled by pesticide spraying. There are no major diseases of Sapodilla, the rust of a leaf, which causes the small leaves to be destroyed.
Read also:
Growing Spring onion in containers. How to grow Guava in containers. Growing Indian Gooseberry in containers. Growing dwarf Apple in containers. How to grow Longan tree in containers. Growing and planting  Fressia flowers. 8 Common gardening mistake. Turnips growing and caring. Litchi tree in containers, growing and caring. Lemon tree growing tips.  Plumtree growing and caring guide. Oregano growing guide. Fig tree growing and caring guide.
For Pin: