Growing Guava tree
Learn Growing guava, How to grow Guava tree in a container, Guava plant care, and more about in this article. Guava is a tropical fruit, its cultivation in tropical and sub-tropical areas, in abundance. In the ground, this tree goes up to a height of about 30 feet from the height of about 12 feet. There are many species of it that you can easily plant in the container; and its care is also effortless. Its flowers are colorful and delicate fragrances.

Guava fruit description
The fruit maybe 4 inches long and 4 to 5 inches in width. The shape of the fruit is round, oval or pear size. It is found in white, pink, red, or flash color. Its fruit has the aroma of a certain kind. Ripped fruit on the trees is good and sweet in taste. Rounded small size seeds inside the fruit. Ripe and green fruit can be 2 to 4 weeks in-store.  Its leaves and flowers are both lightly fragrant and attractive.
Classified Psidium guajava
Botanical name                  Psidium guajava
Watering                             Regular watering
Soil                                         Better in rich soil
Sun                                         Full sun
Fertilizer                               in a month
Soil pH                                  4.5- 7.0
Climate                                  humid and dry both
Popular names
It is known by many names in different countries. Common Guava (white, red) Pisdium guajava,  Guhiava, Bihi, amrood, jamphal, Amrut Phala, Araçá-Goiaba, Araçá-Guacú, Banjiro, Brazilian Guava, Fan Shi Liu, Feuille de Goyavier, Goiaba, Guayaba , djamboe, Goyabe, Goyave, Goyave Jaune, Goyave Rouge, Goyavier, Goyavier du Brésil, goavier, Lemon Guava, etc.
Growing guava plant
Planting guava
You can grow it in containers or ground. These plants need well-drained soil, but they also developed in different kinds of soils. The significant amount of salts in the soil should avoid using. A rich and completely dry soil containing pH 4.5-7.0 is most suitable for this. When planting, mix sand and good compost in the soil of the garden.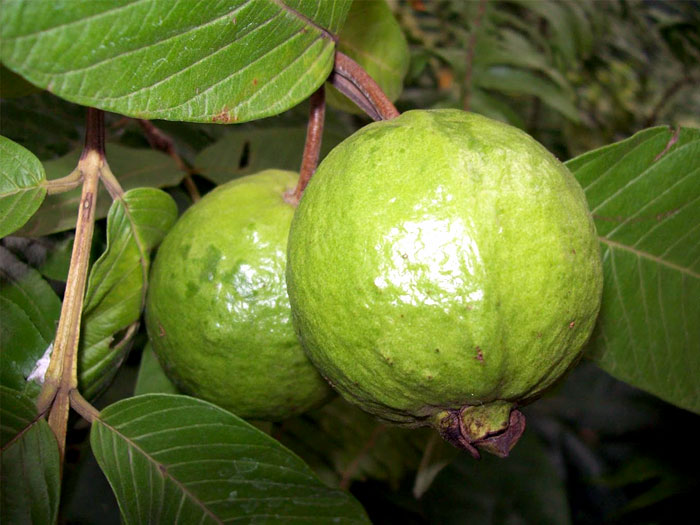 Growing from seed
If you want to plant by seeds it will take about 3-4 years to give this fruit. To grow the tree from the seed, buy good quality seeds from the nursery shop.
Soak the seeds for the first 3 to 5 days in water, doing this will speed up germination.
Take a small container, fill it with potting mix, add 2 to 3 seeds in it and sprinkle light water, to maintain the moisture.
Now cover it with a plastic sheet. Now keep it in a room with warm temperatures. Guava seeds sprout well in temperature of 25 to 30 degrees C.
Its seeds sprout in about 3 to 10 weeks. When the plants get mature enough they can transfer it to the ground.
If you want, you can purchase grafting plants directly from the nursery.

How to grow Guava tree in a container
The guava tree is a beautiful tree. Its leaves and flowers are both lightly fragrant and attractive. The ground-grown trees grow up to a height of up to 12 feet, and if you bring this tree in a container, it will be small.
The tree grows bigger, therefore, more room needed for the development of roots of the guava tree, and to provide adequate space, choose a container of at least 12 inches.
Before planting, make an adequate drainage hole on the surface of the container, leaving extra water easily. After choosing the pot, fill your container with a quality potting mixture with mixing compost, sand, and soil.
Choose a self-pollination type plant for growing guava in the container.
Watering the container after planting, because these plants prefer moisture.
These trees prefer full sun. So keep the container in the sunny area. If guava is growing in the tropics, keep the container in shade in the afternoon. Place the plant at least six hours in the sun receiving a place. Read more.
*You can grow it in containers in cold zones also.
Guava plant care
Watering
This tropical fruit Plants require regular watering and deep watering. Guava plant can stay alive in the saturated soil. Watering that should have at least soil wet 2-3 inches. Lack of moisture that may delay flowering and fruit drop maybe because of it.
Climate
It is developed in both moist and dry climate, this tropical fruit found in both seasons. In the low temperature, guava is alive. The temperature of 29 degrees or above is good for the guava.
Pruning
It can be pruning to maintain the shape is around the edges if desired. It does not impact on the yields of at least from sorting.
Fertilizer
These trees need fertilizer once a month; and before the pruning of tree, if given full organic manures, you can find a better result. If given regular compost can find good yields. Read more.
See also:
How to grow Spring onion.  How to grow Fig tree in containers. Growing Starfruits. Grow Papaya in a container.  Turnips growing and care. Potato growing and care.  Black Pepper plant growing and caring.  Tinda growing and caring. Plumeria growing and caring guide. Grow Cantaloupe in containers. Growing and care about Pansy flowers. Kiwi fruit Growing in containers.
For Pin: