Black currant 
Learn How to grow Black currant, Growing Black currant in containers, Difference between blueberries and black currant, harvesting and more about this plant.  Black currant bushes require constant renewal. However, the elderly branches bear fruits, but their quantity and quality can make a difference. For this reason, the branches should be planted deeply from the stool, it produces strong young branches annually below the ground,  these are replaced older branches. Black currants are very easy to grow, they produce fruits of dark purple berries in the middle Summer, which is rich in vitamin C. It is also used in making pies, jams, cordials and cassis due to its tart flavor. Black currents can also grow in the container. Nature Bring is giving you information on the growing and caring.
Difference between blueberries and black currant
Both Blueberries and Black currants grow in dense clusters and branches of shrubs. Both are different on the basis of development preferences and there is a difference between the taste of both.
Overview
Scientific name                    Ribus nigrum
Common name                   Black currant
Plant type                              perennial plant
Sun required                        Full Sun to partial shade
Soil                                         Well-drained, fertile soil
Soil PH                                  4.8- 7-0
Zone                                       3-7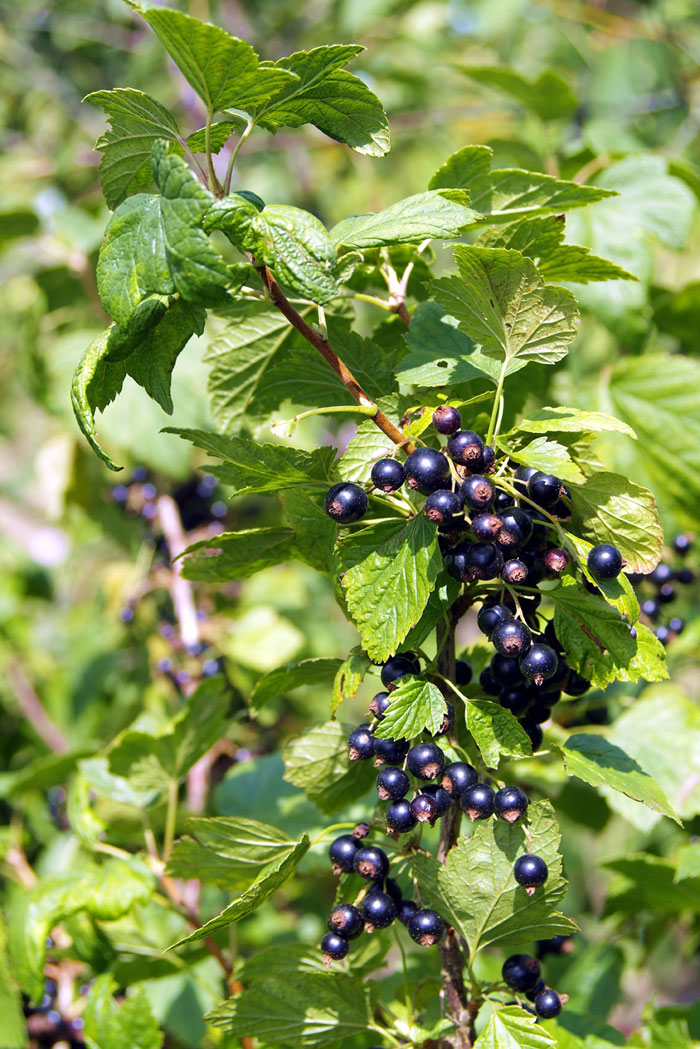 How to grow Grow Black currant
Location and soil
Black Currant can tolerate many types of soil conditions, but they prefer well-drained and moist soil. These plants prefer the presence of the full sun, but they do shade the shadows.
Planting
Applying granulated fertilizer during planting plants in spring or after digging, add good organic matter, animal manure or multi-purpose

compost

, from which it will spread on the plant with roots.
Allow approximately 54 inches between rows.
Allow space approximately 54 inches between rows.
After the planting, give the first year regularly water, soak the soil water at all times and keep it dry.
After the soil becomes hot, lay the thick layer of well-rotted compost on the surface of the plant, when there is moisture.
Do not move the plant until the branches are mature and unproductive. If necessary, cut one-third of the old branches in winter.

Read more.
Propagation
Black currents easily propagated by hardwood and 

Softwood cutting

. Plant 8 to 10 inch long pieces of hardwood cutting in the soil with sufficient depth and keep a top out.
You can apply its cutting in the early spring, autumn, or even at the end of summer. When planting the cuttings, leaving the topmost leaves and plant them.
Take a three-inch piece for tip softer wood cutting, after planting, cover with a plastic sheet and keep it in the shade. You will see the root has grown in 3 to 4 weeks.
If you want only one or two new plants, then cover the drooping branches of Black Current with soil layer,

new plants

will be encouraged.
Growing black currant in Containers
Black currents can be planted in the container, for this, choose a large container of 45 to 50 centimeters in diameter. Before planting, check that there is a drainage hole on the surface. Cover the drainage hole with a broken clay pot or concrete. Mix good quality compost or multi-purpose compost with girt to fill up the pot one third.
Care Black current
Fertilizing
In the late fall spread 1-inch thick layer of compost over the root zone of Black currents plants. Slow Growing Plants can be fed again in Early Summer.
Pruning
In late winter, when the plant becomes dormant, it should be pruned. Stems that begin to touch the ground, when the disease appears or broken stems should be separated. The 2-3-year-old stem of red currents produces a lot, whereas Black Currents's 1-year-old stems bear heavily. The old and less productive stems should be removed because too many crowds increase and produce less. Exclude the other except the Young Stems (1-2-3-year-old stems).
Pests and disease
Black currants are sensitive to aphids and white pine rust, so it should not be planted near white pine, otherwise, the risk of this disease remains.
Harvest
Harvest should not be done until the fruits of black currants become dry and stable by taking a whole string. If you want fresh food, make sure that the fruit is fully matured. Read also.
Varieties Black current
'Ben Sarek' AGM: This is a good choice if your garden if the area is small. It is a compact bush and its production is high.
'Ben Lomond' AGM: It is cold resistant due to late flowering. It produces a high of big berries.
'Ben Hope: Medium-sized fruits, but they are producing huge currants and are an excellent producer. This type is resistant to fungi, leaf replacement, and gall midge.
'Ben Connan' AGM: This is a compact bush, and suitable for a small garden. Its berries are good taste and big. Varieties.
Read also: How to grow Geranium plant.  Pointed gourd cultivation. 8 Frugal Gardening tips. How to grow Turnips in containers. Growing Onion in Containers.  Growing and caring Lily plants. Garlic vine growing and caring tips. Freessia flowers growing and planting. 11 Best Winter flowers for your garden. Container gardening tips. Mint herb plants growing and care tips.  Edamame growing and caring guide.
Happy gardening.
For Pin: