Portulaca grandiflora, Moss rose plants 
How to grow Portulaca grandiflora, how to grow moss rose.  Moss rose is a flowering plant in the family Portulacaceae, native to Argentina, southern Brazil, and Uruguay and often cultivated in gardens. It has many common names, including rose moss, eleven o'clock, Mexican rose, moss rose, Vietnam Rose, the sun rose, rock rose, and moss-rose purslane. Read more.

Classification Mexican rose
Scientific name              Portulaca grandiflora
Common Name              Portulacaceae, eleven o'clock, Mexican rose, moss rose, Vietnam Rose, the sun rose, rock rose, moss rose.
Type                          family Portulacaceae,
Family                             Portulacaceae
Native Range                 Brazil, Argentina, Uruguay
Bloom Time                   Summer
Colour                             Rose pink, red, yellow, white, and orange. Some are striped or spotted with contrasting colors.
Water                            Dry to medium
Maintenance                Low
Suggested Use             Annual, Ground Cover, Naturalize
Flower                          Show
Tolerate                       Dry Soil, high heat
Plant height                 3' to 8'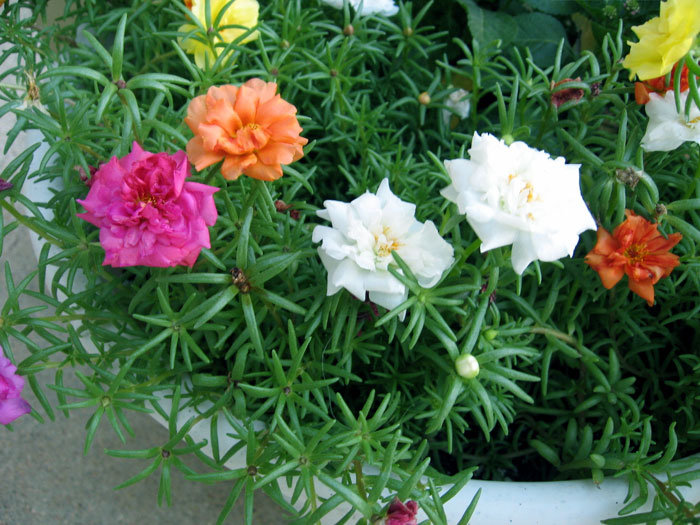 How to grow Moss rose
Moss rose plants have the shallow root system, so the plant gets well water for the first few weeks. By which the plant is established, it becomes drought tolerant. Too much water causes the plants to rot, so plant where there is good drainage. For this fertile soil is not necessary, nor does it require more fertilizer, but the suitable compost keeps the plant healthy and produces better flowers, less fertilizer can cause a decrease in production. Read more.
Planting by seeds
Moss Rose plants are grown from seeds. Mexican rose seeds can be directly seeded into your garden, or seeded indoors for transplanting later in a pot. Portulaca flowers are easy to grow and enjoy. Its seeds are very small, do not cover them with soil because they require light to germinate. You can start this seed from your last frost 8 weeks in advance at home, or you can take a plant from the nursery and transplant it. Space plants from 6 to 12 inches apart so that they are not susceptible.
Soil and location
Mexican rose grows well in poor, sandy or gravelly soils. The dry and well-drained soil is essential for it. It does not grow well in heavy soil or smooth soil. Mos Rose Plants like full sun and dry place.
Watering
Drought tolerant, but flowers best with regular watering. Don't water with overhead irrigation, which can damage the flowers.

Moss rose plants care
Moss rose is a beautiful, bright colored, low growing flowers bloom in all summer.  It is one of the very few annual succulents, with no care required for plants. However, sometimes It can be disturbed by root-rot, nematodes, and aphids. For the prevention of aphids, you can spray with a sharp water squirt or spray of insecticide soap.
Improving the proper drainage system of water can avoid the root rot of the plant.
When the soil is warm and planting at the beginning of June, some flowers come in the middle of summer, though the plants become leggy.
Pinch the side shoot and add a small dose of fertilizer.
Moss rose plants will walk again and flower for summer and fall.
Mexican rose also does not compete with weed or other flowers, so give them lots of space so that a good bed is constructed.
Read also: How to grow Magnolia flowers.  How to grow Gazania flowers. Coriander Growing and care in containers. Plumeria growing and caring guide. Bleeding hearts flowers growing tips. Celery growing in containers. Growing and caring Fittonia plants. Mulberry tree growing at home.  Anthurium plant Growing indoors. Growing Kiwi fruits in your garden. 9 easy growing herb for your kitchen garden.  Pear trees care tips.
For pin