Aphids
Learn How to Get Rid of Aphids, Natural Ways to Get Rid of Aphid. Aphids are the most prominent and successful insects in the world, which damage the plant most. These small insects pierce the plant's stem, Aphids first priority is new growth and greenery because most nutrients are present here. They make the plants weak by sucking these rich nutrients.
These are small soft-bodied insects and find to seems all gardens. Aphids eliminate those nutrients that help the plant thrive. They often bring viruses with them that infect the host plants. Such viruses are very harmful to crops like potato, citrus fruits, and grains. Aphids Honeydew secreted creates an unfriendly atmosphere that spreads rapidly to coat the plant's leaves and deprives the leaves of sunlight. When needed, reproduce these insects, and gradually destroys the entire crop.
Well, there are many natural and organic ways to get rid of these insects, which take care of your crops. Here nature bring tells you some organic ways.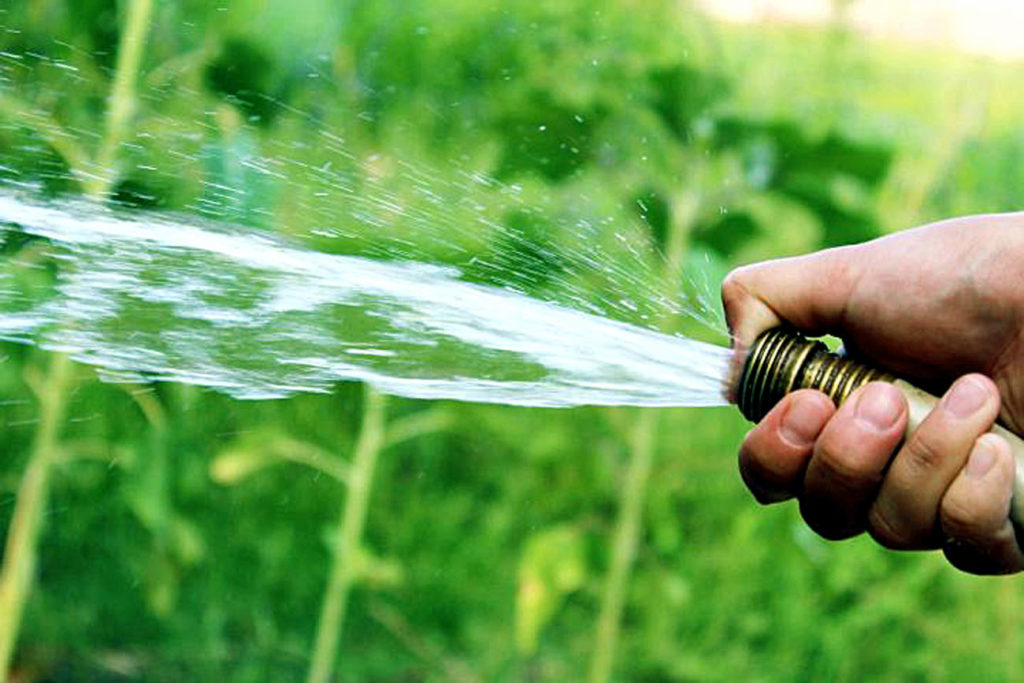 1. Water pressure
Strong spray with cold water on the leaves from a garden hose, sometimes it dislodges aphids. This is the simplest method, but at times it damages delicate plants. But it does a great deal of help in converting the Aphids family.
2. Dish soap spray
Detergents used in your home are the right choice to get rid of these small moderate aphid infections. Pour some small pieces of dish soap into a small bucket of lukewarm water and mix. Fill this mixture in a spray bottle and spray on aphids affected the plant. This will dissolve the protective waxy coating from aphids and will eliminate the insects without harming the plant. Yes, the attention is below the surface of leaves where eggs and larva are hiding. Read more.
* Its spray gets rid of aphids but sometimes it also destroys the beneficial insects such as ladybugs, hoverflies and lacewings populations for the plant.
3. Aphids control by Neem oil foliage spray
The spray of neem oil is mixed with water.  it is an ideal remedy, but oil and water cannot be mixed together and the oil floats on the surface of the water. The surfactant is essential for diagnosing this problem. The best surfactants can be liquid detergent or dish soap.
To prepare the spray, a mixture of 1-quart warm water, 2-teaspoon Neem oil and a 1-teaspoon liquid detergent. Then fill up this mixture in a spray bottle and spray on aphids infected leaves. Spray this mixture on the lower surface of the leaves as well. Use this spray on all the types of vegetables, fruits, and herbs. Due to lack of water tender parts of the plant can burn, so water the plant well enough before spraying neem oil spray.
4. Remove from hands
If there is a slight infection of aphids on your plant, then you can remove it by your hands. You can pinch out the infected leaves and stalks with your hands or use the brush. If the infection is spread in one or two branches, then cut off the affected area and leave it in the soap dissolved water in a bucket.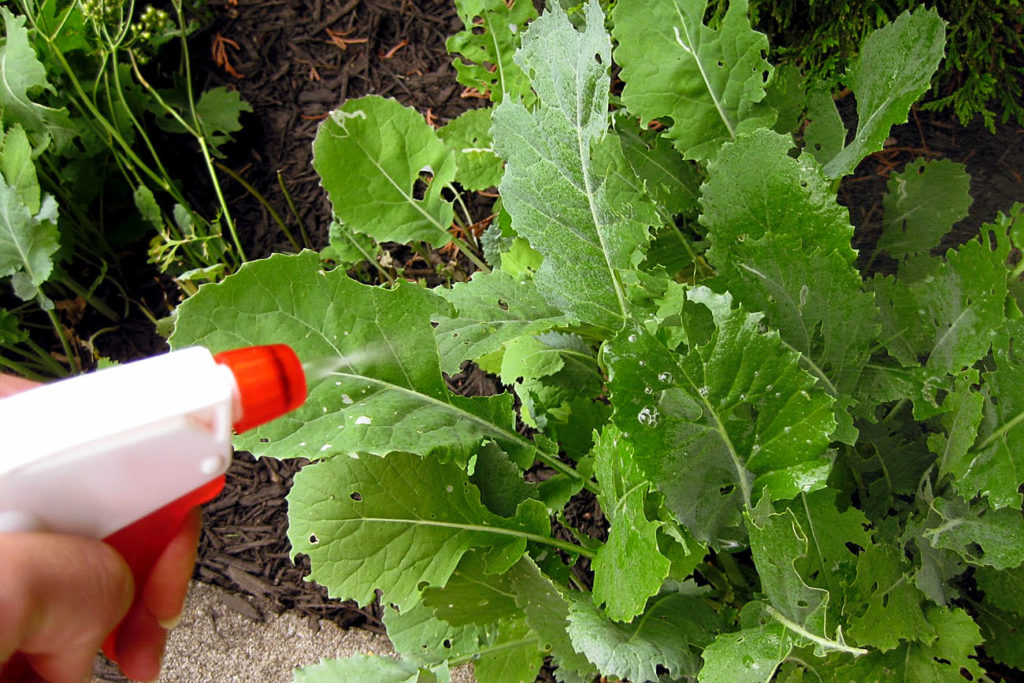 5. Insecticidal soap spray
There are so many natural insecticidal soaps available in the market. But always read the instructions on the product for beneficial results, because there are some such insects that are beneficial for the plant. In such a situation, in such cases, these insects are likely to die.  By the way, if you want, prepare it at home using home appliances. The spray used is 2% soap.  for this, you will need a Spray bottle, pure liquid soap or natural soap and pure water. Prepare a mixture of 5 tablespoons soap and 1-gallon water or 1 quart of water and 1 heavy tablespoon soap. Fill up the prepared mixture in a spray bottle and sprinkle in the infected area. If you have no provision of pure water then use packaged water bottled.
6. Essential oils powerful repellent
Many essential oils have many types of specialty for themselves.  Rosemary oil is a powerful repellent for flies, mosquitoes, and other insects. Similarly, peppermint oil is also an excellent natural insecticide, which works surprisingly on aphids, ants, mosquitoes, beetles and squash bugs and fleas. It is also the best oil for spiders. Oregano flower oil is also useful for getting rid of insects. Clove oil is also good for getting rid of flying insects. See for more information.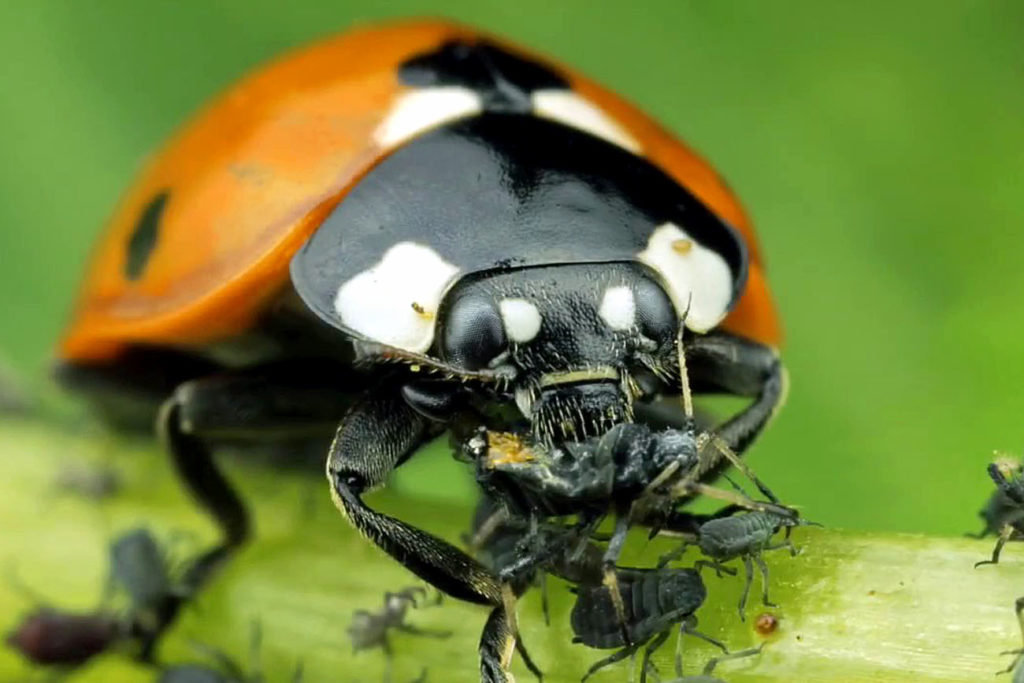 7. Useful insects for the garden
There are some garden insects that are useful for the garden, such insects would not want to die anyone. These good insects can be tempted with food shelter and water and can be their suitable habitat. These insects can be bought and left in the other garden. But these survivors require a healthy residence. The most popular insects  Lady Bugs or Ladybug Beetle, you can easily buy from most gardening suppliers. In some cases, you can also buy hunter bugs from the supplier who will get rid of aphids.
8. Fungicide
Sulfur and Copper are two broad organic fungicides in which there is less toxicity to humans and animals. However, before using it, you should carefully read the instructions given on the label. The sulfur powder can be used on flowers, vegetables, and fruits. Sulfur Plant Fungicide is effective against rust, powdery mildew, scab, brown rot, etc. Do not use it during high temperature, otherwise, it will burn crops. It is approved for organic gardening and sprays it's in all parts of the plant and repeat this process in 7 to 10 days.
9. Biological compound
It has been observed that Aphids dislike biological compounds, especially the fragrances of onions and garlic, which discourage them. So you grow these alliums around your garden.
Read also: How to grow fenugreek in pots.  How to grow onion in containers. Pansy Flowersgrowing and care tips. Growing Cantaloupe at home. Golden Barrel Cactus growing tips. 10 ways to control Slugsnaturally.  10 ways to use Vinegarin the garden. Mealybugs control with organic ways.  7 Natural ways to get rid of Ants. Spittlebugs control with natural ways. Growing Black peppers in containers. Bleeding hearts flowers growing tips. Celery growing in containers. Orange growing and caring guide. Jade Plant growing indoors.
For Pin: