Growing Eggplant (Brinjal)
Eggplant Vegetable comes in many varieties around the world, in the tropical and subtropical climate you can sow it directly in the garden. Aubergine grown in temperate climates better when transplanted into the garden after all danger of frost is passed. 
Eggplant Vegetable Common names
Brinjal is a member of the nightshade family. There are many common names for eggplant in North American and Australian English. However, British English uses the word "aubergine" for it and in Wikipedia South Asia, South Africa, Malaysia, Singapore, and West Indies, Trinidad, is called Brinjal.
Brinjal is available around the year in many varieties but its peak season is during August and September. In this plant, the flower color is violet and white with a yellow stem. The fruit of this plant is egg-shaped with glossy purple color and its inner part has a white color. When we cut the outer surface the inner flesh rapidly turns brown. Here Nature Bring tells you a few simple ways to how to grow eggplant.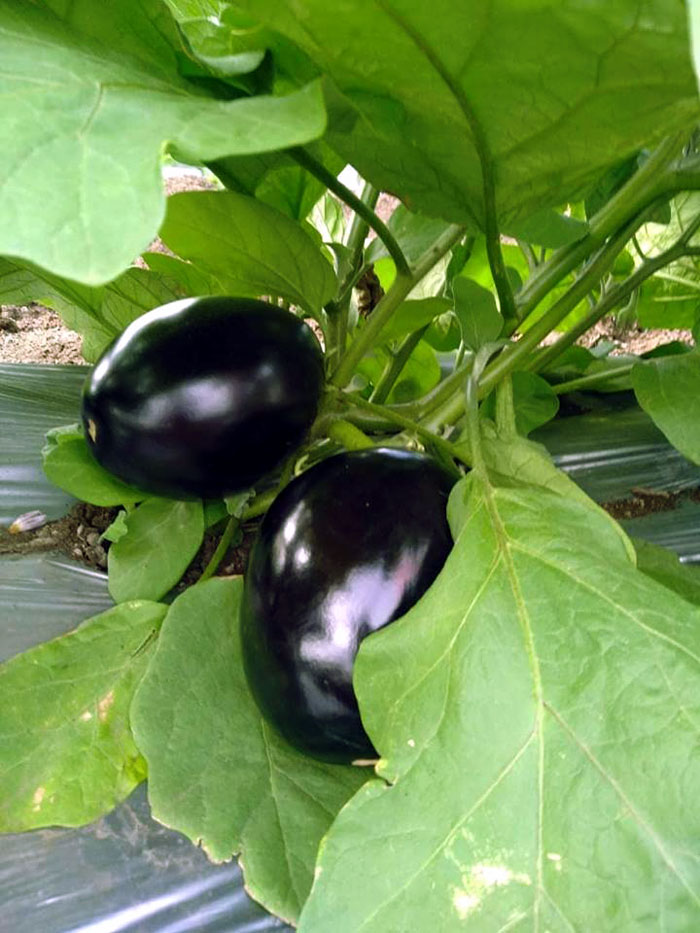 Overview of Aubergine
Scientific name                    Solanum melongena
Common name                   Eggplant, Brinjal, aubergine
Plant type                              Vegetable
Sun required                        Full Sun
Soil                                        Well-drained, sandy and loamy soil
Soil PH                                  5.5-7.2
Zone                                       5-12
How to Grow Eggplant in pots
We can grow eggplant seeds indoors and later you can shift in your courtyard or in a container. There are some early growing species that are used in areas where the climate is cold.
First, you grow the plant seeds inside a house. It is germinated on 7-14 days for which bottom heating is essential. Seeds slipcover with a mix of very light soil. When watering, don't wash away the seeds. Then leave it for 2 months. Your plant is ready, or you may bring it from the nursery. Natural light in-house or greenhouse is sufficient for germinating.

Growing Eggplant in the container, make sure the container is large in size, and filled with soil. Potting mix (1 part of the soil, 1 part of organic fertilizer, and 1 part of peat moss) is good for container planting. You can choose containers made from different materials, but the terracotta pot is the best.

Check the drainage hole at the bottom of the pot before planting it in the container, if not, make it with the help of any tools. 

Place 3 to 4 inches taller plants in a large container. After sowing the eggplants, keep the container outside in full sunlight. 

See more.

Growing Eggplant
If you want a good planting of brinjal plants in your yard, then keep the following rules in mind.
Location and Soil
Aubergine likes well-drained, sandy, and loam soils. Choose soil in which pH level is between 5. 5 to 7. 2. Before planting, loosen the soil by 8 to 10 inches, adding organic manure to the soil. If possible, spread 2 to 3 inches of organic manure layer. Eggplant plants prefer the presence of the full sun, for good production requires at least 6–8 hours of sunlight.
Spacing
Keep good planting in your yard 24 to 36 inches apart, and rows 24 to 36 inches apart.
Temperature
Eggplant is sensitive to cold. The temperature of the day is between 80  and 90 degrees F and night temperature between 70 to 80 degrees F, so it grows best.
Fertilizer
Aubergine has to compost continuously. Based on the results obtained from a soil test, its supply is the best. Apply fertilizer when the first set of real leaves appear in it. Fertilize by making fish emulsion or kelp solution. Fertilize it once a week with a diluted solution, re-fertilize when the first fruit appears.
Watering
Eggplant requires at least 1 inch of continuous water per week, water spreads to the shallow roots of the plant. Keep water supply according to dry season and soil type. As the heat, high winds, and sandy soil increase the water requirements.
Mulching
Eggplants prefer moisture much more and mulching keeps warmth and moisture in the soil. Mulching around the plant helps control the weed. If weeds are high, then you can clean it with your hand.

Harvesting Brinjal
If transplanting depending on different varieties, the harvest is done after about 65 to 80 days. If starting from seed, about 100 days are required for maturation. At this time, the skin of the fruit is shiny and of similar color. Try pressing lightly with the finger, this time the skin does not come back. Do not leave the mature fruit long on the plant, otherwise, it will become hard. While harvesting, cut the Brinjal with the help of a sharp knife, do not pull the fruit.
Varieties Eggplant (Brinjal)
There are many varieties of eggplant which are spherical, tall, thin, small round, Japanese pickling eggplant; And traditional big 'black belle' etc.
Black Bell
Black magic
Epic
Florida High Bush
Florida Market
Night Shadow
Thai eggplant
Pests and diseases Brinjal
In this plant, insects are a big challenge, flea beetles chew the leaves and make many small holes, they are the worst pests of the plant. To avoid this problem, the plant inside the house for the initial warming or cover outdoor plants with floating row covers. If your plant is suffering, then spray Beauveriabassiana or spinosad.
Yellow-and-black-striped Colorado, which is potato beetles its egg under the leaves, needs to be destroyed. Remove the tomato hornworms and green caterpillars by hand and separate them. Due to lack of water or moisture, the shape of the fruit becomes Crooked. Verticillium wilt and powdery mildew also affect the plant.
Health benefits of Eggplant
Nutrients
Besides vitamins and minerals, eggplant also contains important phytonutrients. These Vegetable phytonutrients include phenolic compounds, such as caffeic, and chlorogenic acid, and flavonoids, such as nasunin.
The Vegetable of reduces blood cholesterol and body weight is rich in fiber, potassium, vitamin, vitamin C, vitamin B-6, which supports heart health.
Fruit contains polyphenol that helps reduce cancer.
Regular consumption of Aubergine helps prevent blood clot-thanks to vitamin K and bioflavonoid that strength capillaries.
This is low in calories with just 35 per cup. It contains no fat and its fiber content can help you feel full.
The fruits are wonderful sources of phytonutrient, which have long been known as boosters for cognitive activity and general mental health.
Eggplants defend against free radical activity and keep your body and brain safe from toxins and diseases, but they also increase blood flow to the brain.
The qualities of Brinjal make it useful as a regulator of glucose and insulin activity within the body. 

Eggplant
See also
How to grow a Fig tree in a container. How to Grow Tomatoes in containers.  Growing Colchicum bulb.  Growing Ivy Gourd. Salvia's care and propagation. Ridge Gourd growing at home.  Christmas Cactus growing and caring. Spring onion growing and caring. Cucumber growing and care tips. Pear trees growing guide. Kiwi fruit growing and caring. Rubber plants growing indoor.  Anthurium growing and care guide. Coriander growing in containers. Thyme growing guide.
Happy gardening.
For pin: