Peonies flower
Know about Peonies, How to grow peonies flower in containers, Growing peony flower, Peony care, and more about tree peony. This is a good time for Peonies to grow, and many species exist, so it is possible to be confused. Peony is a very popular plant that is available in both herbs and trees. In addition, hybrid peonies are also available in the nursery.
Itoh intersectional peonies are a hybrid cross between a bush peony and a tree peony, they are often known as Itoh peonies. Peonies are the exceptionally pleasant aroma, its flowers make any garden attractive. These are perennial shrubs and display their growth habitat.
Attractive leaves and flowers. Intersectional Peonies stand in any season, they do not need staking. Perennial bush Peonies their growth habited and display its attractive leaves and flowers. Intersectional peonies can stand in any season, they do not require staking. Follow the detailed instructions given by Nature Bring for how to develop Itoh Peonies in your garden.

About Itoh Peonies
Itoh Peonies In the 1900s, people ridiculed the idea of cross-breeding; it got different species and incompatible mind. But in 1948, Japan's horticulture expert Dr. ToichiItoh made seven hybrid trees by crossing the Peony tree with the second herb peony with a tireless effort. But the point of regret is that Dr. ToichiItoh died before it blossomed. After this, the American horticulture expert forwarded it to work.
Classification
Scientific name                   Paeonia
Common name                   Peony
Plant type                            Flower
Sun required                        Full Sun
Soil                                       Loamy soil, Moist soil
Soil PH                                  6.5-7.5
Flower color                          Yellow, coral, pink, red, and white
Blooming Time                      Late Spring
Zone                                       3-7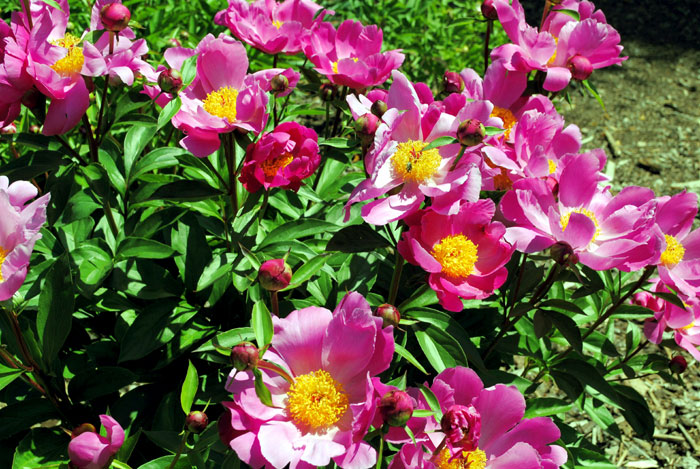 How to Grow Peonies
Time of planting
The best time for planting Peonies is Spring or Summer. Herbs peonies can also be planted in spring and fall. They preferred soil and 6 hours of sunlight.
Location and soil
You can easily add all peonies to your garden. Select such places for the Peonies, where the position of the Sun is direct. Do not place peony in cold or low light areas, otherwise, the plants will become weak and the flowers will get less. For this hot and dry spring and the shadowy place in the afternoon is most suitable. They prefer loamy and well-drained soil. Science this humidified soil is suitable, but water should not be logged in the soil. They are tolerant of the long pH soil range, but soil pH 6.5 to 7.5 is suitable.
Planting Peony flowers
The best time for bare-root planting is from late fall to early spring, do not plant in the frozen solid ground. Bare-root planting is most suitable between October-January and March to May in New Jersey.
In the growing season of May-June, planted in containers in pennies, it is very easy to plant and usually can be applied in any season.
As soon as you start receiving Peonies, it should be planted in the spring. Plant it out before the cold or fall arrives.
If you bare-root planting in the spring, it may be possible to get the lowest growth product above the ground in the first year. And if you plant it in the containers, the leaves will die and the buds will dry out, but there is nothing to worry about, it is normal.

Propagation of peony plant
The most successful and easy way to propagate Peonies is to the division. Root division or grafting is the only way to propagate this. By planting peony seeds, new varieties will arise. Peonies japonica, woodland peony is an exception that will create seeds and which is similar to the original plant and can be propagated by seeds.
Growing peonies flower in containers
If you wish to grow peonies flower in containers, you should plant them in the deepest depth. For proper hydration, keep the roots in cold water for 15-20 minutes. Before transplanting, make a  twofold bigger pit in the soil from the root ball, and add mixed compost. For the proper development of the plant, the distance between plants should be 3 feet.
Water and fertilizer
Do not overdo the watering or over-fertilizing, whether or not you are growing peonies fast.
Do not use too many nitrogen-rich fertilizers, Due to this, the development of leaves will be faster than flowers.
Young plants need fertilizer almost 1 month after development.
Unless the root system of the plant is established itself, this plant needs regular water in the very dry season. After installation of the plant, it requires very little water and maintenance. If you think that your plant is nutritiously weak, then dress the compost around the plant, it will not harm and enrich the soil. Read more.
Pruning
They require very little pruning, however, sorting frees the diseases and promotes new growth. It is not necessary to maintain the shape of bush plants. Herbaceous is tender-stemmed that die naturally in the fall and become regrow again in spring. It is not necessary to maintain the shape of bush plants. Remove the faded flowers, and cut back the leaves in the fall.
Pests and disease tree peony
It grows very strongly, so not many diseases affect it. Peony disease Botrytis or gray mold is its dangerous diseases, which are often due to cold and frequent wetting.  This is a fungal disease that appears in the form of spots on leaves or stems. Immediately cut and destroy affected stem and leaves, Commercial fungicides spray is also beneficial. For prevention, good air circulation and sunlight should come around the plant. Give the plant water early, do not wet the leaves.
Read also: How to grow Daffodil bulb.  How to grow Holly tree in containers.  Growing  Ridge Gourd at home.   Pointed gourd cultivation. How to grow and care Lilac Shrub. Growing Hostas indoor and its care. Crown of thorns plant growing and care.  How to grow Cloves at home. Impatiens growing and caring guide.   Mulberry tree growing condition. Tinda growing and caring tips. Kidney beans growing and caring guide.  Growing best hanging plant   Pansy flowers. Growing Celery in containers.  Kiwi fruit Growing in containers. Anthurium plant Growing indoors.
Happy Gardening.
For pin: