Spinach plant
Learn How to grow spinach in pots,  how to plant spinach, spinach recipes,  pests problem with Spinach plant on this article.  Spinach is an edible flowering plant in the family Amaranthaceae native to central and western Asia. Spinach is an annual plant growing to 30 cm tall, it may survive over winter in temperate regions. It is a hardy vegetable also that is well grown in the spring season.
The spinach is a winter season's vegetable, it is a leafy vegetable whose leaves come in large size. Spinach plants prefer full sun, although they produce satisfactorily in partial shadows too. It is also known as palak, it is growing at the beginning of winter.  Spinach is perfectly happy in organic manure, well-drained rich soil, and grows very well in its presence. This 6.5 – 7 pH soil is suitable and producible twice a year.
Overview
Scientific name             Spinacia oleracea
Common name             Spinach
Plant type                     Vegetable
Sun required                 Full Sun / Partial Shade
Soil                              Well-drained organic-rich soil
Soil PH                        6.5-7
Zone                             3- 9
Popular names in India
In Hindi Palak, In Marathi Palak, In Telugu Palakura and Pasali in Tamil.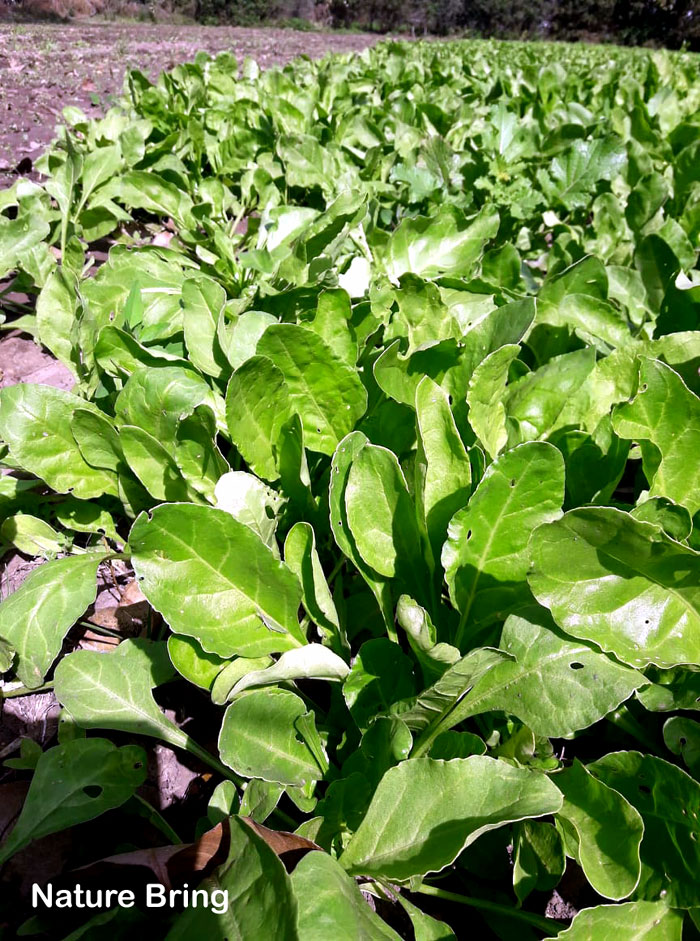 How to Grow Spinach plant
Soil and location
Combine the compost well in the soil almost a week before planting the spinach. This vegetable likes in well-drained soil rich in organic matter. Spinach grows well with soil pH of 6.5 to 7.
Cultivation time
If you want to cultivate spinach twice a year, then place it in the spring 4 to 6 weeks before the final frost, or 6 to 8 weeks before the first frost in the fall. Keep the distance between the plant 12 inches apart, which can give the leaves enough space to reach the full size. Although it can be planting in the house, it is not recommended because plantation implants are not easy.
Sow seeds
However, most gardeners start with this seed but plants are also available for transplantation in local nurseries. You can sprout its seeds in spring/summer/fall summer, but this can be a challenge. If you want to sprout rapidly, then the temperature of the soil is best between 68 and 86 degrees Fahrenheit.
Keep the moisture in the soil continuously, for this, you can cover the row by fiber row cover. It will maintain moisture in the soil and will help in seed germination. As soon as the plantation is visible, you remove the fiber cover. 3-5 inch difference is best for most of its varieties. At the time of planting, place it at a direct distance or transplant it thin.
Feeding
Between the times of planting the plants should be at least 12 inches away. For rapid development without interruption use Rich Soil with nitrogen, so leaves are Healthy and tender, you can use also liquid fertilizer or vegetable plant food. Spinach can tolerate the cold well. These plants are popular in the fall.
To obtain tender leaves, amending the soil with nitrogen, for this, you should use blood food, cotton food, or manure or timed-release fertilizer. This will increase the crops faster, fruits and vegetables require regular food for quick development.  Read more.

How to Grow Spinach in pots
The spinach can be grown easily on the container, it can also grow on a windowsill or on a balcony outside the kitchen door. When they grow in the container at home they do not have any damage to the deer.
If you want to grow in this container, then this is a great plant. It can be grown easily in 3 ½ "(9 cm) of salad tray, unless it is not enough water, but you put it in a 6-8" (15-20 cm) pot window box So its roots spread to the depth and all its needs are met. You do not need too many deep containers, but instead, you use more width utensils. You can also use a lot of small containers.
There is a hot environment in a pot and cycling of nutrients is faster, in such a way, you can easily add vegetable-based nitrogen compost such as alfalfa food or soy meal, or animal-based compost fish meal, feather meal, etc., which will help in more and faster production.
The plant is drying very fast in pots so they require regular water.

Read more.
Spinach plant care
If you develop full-sized spinach plants, then sewing 7.5 cm apart, because as soon as they are large, space is needed to handle them. If you want to use salad leaves, there is no need for its thin planting.
Mix the bed thoroughly, and give water regularly during the hot and dry period.
Feed the spinach plants to a fortnight with high nitrogen-rich liquid fertilizer.
If your plant is growing to overwinter, cover a crop in November with a floating line cover and a 4-to 6-inch thick layer of straw. Check for growth signs in spring and if necessary remove the straw.
Pests problem with Spinach plant
Aphids or plant lice love spinach, but you can wash it with a forced edge of the water. Many organic sprays or neem spray are available in the market and can use them. Caterpillars also damage your spinach, for this, you can use biological worm spray.
White rust, downy mildew, and the fusarium wilt are some of the primary diseases of the plant. fusarium wilt is soil born diseases. During cold, humid conditions the problem of white rust is usually, if you see infection on the leaves, remove the leaves immediately. Treatment of downy mildew can also be done by removing leaves, for this, you can also use fungicide available in the market. To get rid of fusarium wilt, keep rotating crops in 3 years.  Read more.

Harvesting
Spinach plant is ready for harvest by about 4 to 6 weeks with a seed sown, at this time the leaves are soft and according to your taste. The way to cut spinach is like a lettuce harvest. Start with the old and outer leaves of the harvesting and let the young and the inner leaves remain so that the subsequent harvest will continue to grow. If you want more crops, you can also cut the entire plant. If you leave the crown and cut it on the base of the plant, then this plant will send a new flush of leaves.
Spinach nutrients
It is rich in nutrients compound, due to its many health benefits. This need can be cooked and eaten salad. It is most commonly found in iron and calcium. It is a good source of vitamins A, B, and C.
Between the times of planting the plants should be at least 12 inches away. For rapid development without interruption use Rich Soil with nitrogen, so leaves are Healthy and tender, you can use also liquid fertilizer or vegetable plant food. Spinach can tolerate the cold well. These plants are popular in the fall.
Nutritional Highlights
Essential nutrients found in Spinach, which protects our body. Spinach is high in niacin and zinc, Amino acids, vitamin A, C, E, and K, Vitamin B6, folic acid, Calcium, Iron, Magnesium, phosphorus, potassium, copper, and manganese. Spinacia oleracea is low in fat and cholesterol.
A 100g serving provides
23 calories, 3g protein, 0g fat, 4g carbohydrates, 2g fiber, 187% Vitamin A, 46 % vitamin.
Health benefits of spinach
Diabetes
An antioxidant in spinach is Alpha lipoic acid,  it reduces glucose levels and increases insulin sensitivity.
Protect hair and skin
This vegetable contains vitamin A, keeps the hair moisturized Vitamin A is essential for the development of hair, the tissue of the body, and maintains skin. This vegetable contains large amounts of vitamin c Which are essential for hair and skin.
Apart from this, it has many benefits, it is effective in Hemoglobin, Immunity system, Calcium, Eye benefits, Weight loss, Anemia, Heart attack, cancer. 
Spinach recipes
How to make Palak Paneer Recipe, Spinach curry recipe. When there is an abundance of spinach in cold and spring days, Palak Paneer is the most popular dish in north India, which you can eat with Roti, Paratha, Rice or Naan. Anyway, the vegetable of paneer is most liked in India. For this, you make a curry of spinach and the cubes of cottage cheese (paneer) are put in it.  It is very easy to make it that you can make in any party, dinner parties at home, or at festivals. Read more.
Read also: How to grow Fenugreek in the pot. How to make Palak Paneer recipe.  Growing Luffa Gourd in the container. Growing and caring Ridge gourd. How to grow  Onion in containers.  8 Beast  Frugal Gardening tips.  Turnips growing and caring.  Growing   Spring Onion at home.
Happy gardening.
For Pin: