Tulip
Learn How to grow Tulip in the pot, Planting  Tulip bulbs, Growing and care Tulips and more about tulips in this article. Wild tulips are native to dry areas of Central Asia. Its main species are red and yellow in color. Modern and hybrid varieties are smaller than the original species of flowers. Tulip lasts for a long time and is in bright colors.
These are the attractions of your garden from early spring to early summer. They grow very well in areas with cold winters and dry, hot summers. Tulips can grow easily, which is very good for flowers beds and borders. Follow the detailed instructions given by Nature Bring for how to develop Tulips in your garden.
Overview
Scientific name                    Tulipa
Common name                   Tulip
Plant type                              Flower
Sun required                        Full Sun/part sun
Soil                                         Natural to slightly acidic
Soil PH                                  6.6-7.8
Flower color                          Red, yellow, White, Orange, Pink, Purple, Green
Blooming Time                    March to May
Zone                                       3-8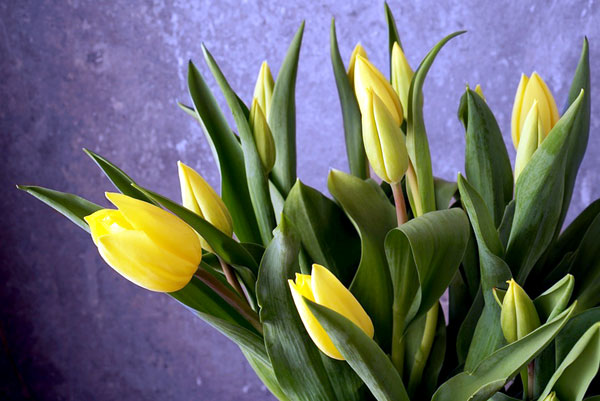 About tulip
Tulips flowers are usually shaped with three petals and 3 sepals with cup shapes. Tulip's small species of flower for containers and larger species are suitable for flower beds and borders. Tulip plants range in length from 6 inches to 2 feet, each plant has 2 to 6 broad leaves in the stem. Although the Tulip is perennial from the botanical point of view, the capacity of the bulb weakens every year, so many gardeners plant new bulbs each year.
Growing Tulips
Growing time
The best time to apply tulips bulb is autumn before the ground freezes. When planting different blooming species, you get flowers from flowers Early Spring to late spring for bouquets. Most of its species are considered suitable for cut flowers.
Location and soil
Tulips are easy to plant but its soil care is very important. Before preparing the soil, choose a place where the Sun comes directly because it does not grow very good in the shade. Well-drained and dry soils natural to slightly acidic are very good for this, in the soggy soil, there is fear of rotting the bulb. Planting its bulbs in the group, if you are using it as a perennial border.
Watering
Always give water to the bulbs after planting, it is necessary before the dormancy of the winter and for the growth of the root system. But be careful while giving water as bulbs are susceptible to diseases with extra water, so there should be normal rainfall till the spring season. When hot and dry spring begins, flowers need additional water to develop. Tulip is lost by the irrigation system.
Fertilizing
At the time of planting, make the bulbs fertilizer in the fall and again fertilizer once again in the spring. Feed 4-10-6 organic bulb fertilizer at the rate of one spoon per bulb.  Read more.
How to grow Tulip in the pot
The best time to plant Tulips in the pot is from September to December, place it in the same way as if you plant it on the ground. For this, an 18-inch diameter container whose height is 15 inches high, because it reduces the effect of the viability of the bulbs in smaller containers. If you want many colors to come together in the garden at the same time, choose smaller groups such as Single Early, Double Early, and Triumph because they are best for spring annuity.

Planting  Tulip Bulbs
Once the soil is loose; you can plant its bulbs by making an individual hole.
Tulip bulbs are tall so you dug three times the bulb. After covering the bulb in one part fill the soil in about two parts.
Place the pointed part of the Tulip bulbs upwards, and press the soil well.
Keep a 4 to 6-inch space between the

bulbs

of plants, before considering it, consider the plot.
Water the bulb immediately after the plantation, although the bulbs do not tolerate wet feet, the bulbs trigger growth requires water.
Divide and Transplant
It can be divided into every 3-5 years, you can divide your tulips. But with a little caution, the bulbs do not damage. When the plants stop production of flowers and leaves become smaller than normal, then the bulb indicates that you use the darkroom to develop them. Divide tulip offsets by mother bulbs, it can be a solution. Offsets take a few years to mature, but the offsets take the exact copy of the parent's plant.

Tulip care
If your area is raining continuously then there is no need to give water. And if the rain does not occur and the soil remains dry, give the bulb weekly water until the soil freezes.
Constant water, irrigation system, and wet feet can cause tulip bulb fungus, disease, and rot, so take precautions while giving water. Add pine bark, sand, or anything else that can lead to drainage.
Add to the essential nutrients every year to encourage continuous flowering production.
In spring, when its new leaves emerge, then feed it to bulb food or bone meal and give water well.
Pests problems Tulip
Squirrels often eat bulbs after planting. Aphids develop in stored bulbs and during the growing season, the virus spreads. During the early spring, the hole in the leaves and bulbs becomes due to the slug. Tulip fire causes brown spot in the leaves.
Tulip viruses also trouble it and destroy the leaves and flowers. Due to Sclerotinia diseases, its bulbs are infected, the infection bulbs should be removed immediately. The bulb should not be planted in the infected area for approximately 5 years. The stored bulbs are also affected by the blue mold rot. Read more.
Read also: How to grow Bleeding hearts flowers. Anthurium plant Growing indoors. Know how to grow Pansy flowers. Petunia growing and care tips. Growing Colchicum at your garden. Growing Impatiens in your garden. Best flower for bees and Butterfly gardens. Plumeria growing and caring guide. CorianderGrowing and care in containers. Lily Growing guide. Growing Kiwi fruits in your garden. Cantaloupe growing in containers. Black pepper growing and caring tips. Mulberry tree growing at home. How to grow Christmas Cactus.  8 Frugal Gardening tips.
Happy gardening
For Pin: