Summer Lawn care tips & tricks
Description: Summer lawn care is quite a lot different from spring lawn care. During spring, lawn care means to keep your lawn healthy and green. But during summer, lawn care is maintaining the existing health alongside the rising temperatures. It might sound a bit difficult but when you know the right tricks and tips, it becomes much easier. Stay hooked to the article to grab some easy and quick tips on summer lawn care and lawn mowing.
image: "Lawn care maintenance"
After the healthy spring bids goodbye, summer brings a lot of stress to your lawn grasses and makes you wonder how to care for a lawn. Still, you try to fight nature by watering the plants, fertilizing them, and motivating your lawn to stay healthy in spite of the soaring temperatures. But that much of hard work is not needed if you know the right basic tips to enhance the summer lawn care. The tips include removing weeds using a gas weed eater, regular watering, and so on. We have carved for you with care some super-easy tips and tricks for lawn care during summer. So, delve into the article to know more.
Keep an Eye on Watering
Just like the human body requires a lot of water during the summer season, your garden too demands a good amount of water for summer lawn care. Some tips for watering are:
Grasses need around one inch of water every week, and sometimes even more with the rise in temperature. You can use a rain gauge to measure the amount of water received by your garden from irrigation and rainfall.
You must water less frequently but deeply. This will keep the drought-tolerant roots healthy.
It is recommended to water your garden during the early day for effective lawn care. This will help in the reduction of evaporation and fungal diseases.
Make sure that you enter the habit of watering your garden regularly and deeply. If you have no intention of continuing the regular watering process, then do not dream of effective lawn care. Without regular watering, your garden will go all brown and you cannot bring it back to life before spring.
Lawn Mowing
You need to be a bit more careful while lawn mowing during summer. A few mowing tips for summer lawn care are:
You must raise your mower blades during the summer. Mow cool-season grasses from 3" to 4" during the summer and warm-season grasses from 2" to 3". Remember, the taller grasses are more drought-tolerant, have deeper roots, and help to provide shade which in turn prevents the germination of weed seeds.
Mulch the grass clippings to balance the moisture level of your garden.
The mower blade must be sharp enough to cut your grass and not tear them. Cutting grasses will minimize stress on your backyard during hot temperatures.
For total lawn care in summer it is very important to mow regularly. It will help you keep the garden healthy and prevent the smothering of the grass.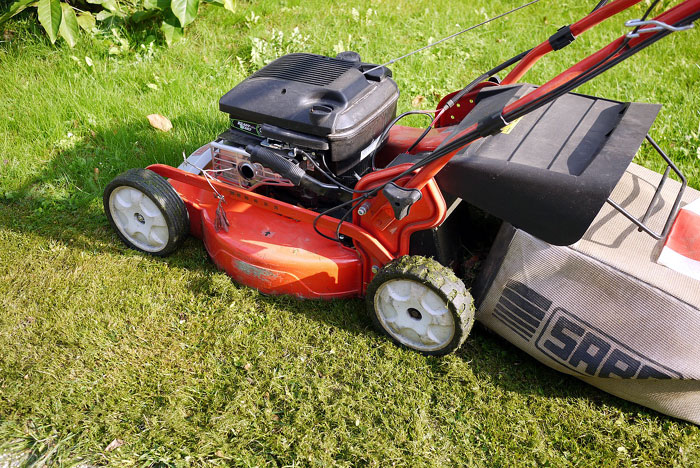 Image:  Lawn mover
Skip Fertilizers
Chemical fertilizers are a big NO for summer lawn care. You must stick to organic lawn care when the temperature increases. This is so because applying extra chemical fertilizers during the summer burns grasses and you will have to struggle to keep your garden healthy. In fact, it is recommended that you totally stop fertilizing 30 days before the arrival of summer. Fertilizing grass is a great part of fall lawn care but avoid doing it during summer. But anyway, if you feel that your garden is in high need of fertilizer, then use organic fertilizers because their burning effect is far less than chemical fertilizers.
Remove Weeds & Insects
It is imperative that you weed your garden during the summer, so that spring lawn care in the future becomes easier. Make sure that you do not use any kind of chemical fertilizer to remove the weed. Rather use weed pulling out machines to avoid the burning down effect of chemicals.
The drought-stressed summer gardens are often more prone to insects like cutworms, bugs, armyworms, fleas, fire ants, and mosquitoes. So keep an eye on these insects and make sure that they do not affect your lawn care procedure. Also, keep your garden safe from fungal diseases during the summer. You can apply a fungicide if needed. It is highly recommended that you avoid watering the plants in the evening completely.
Conclusion
We hope that this article was able to help you provide some great lawn care tips for summer. If you follow all the above-mentioned tips thoroughly, then lawn care during summer is not a very hard job to do. Water your garden regularly, focus on mowing, remove weeds, avoid fertilization, and keep an eye on insects, these tips can be life-changing for your backyard. So, which lawn care tips are you planning to implement this summer? Do let us know!
Author Bio:
Alex Green is a copywriter with 3 years of experience. He is fond of healthy living and knows everything about home improvement. In his spare time, Alex likes walking with his golden retriever, meeting with friends, and attending the gym.
Read also:
Best flowers for Bees and Butterfly garden.  Growing Summer flower bulbs. Growing Raspberries in containers. Long Blooming Summer flowers. How to grow beautiful indoor plants. How to grow Petunias in containers. Monstera deliciosa growing and care tips. Rambutan growing and health benefits.
For Pin