Rambutan
Learn Growing Rambutan, How to grows Rambutan, Health benefits and more about this plant. It is an exotic fruit, along with Rambutan marvelous test and unique appearance, it also has many health benefits, how to develop this exotic fruit at home.
Rambutan is a tropical exotic plant which is native to Southeast Asia. It has hair like an appearance which tastes similar to that of lychee, longan, and mamoncillo. It is very juicy and sweet in taste. To know more about rambutan and its health benefits (Read here). In this article, we will be sharing information about growing this tree in the large and small area, terms, and condition required for growing, soil type, weather conditions, precautions, pests, and medications.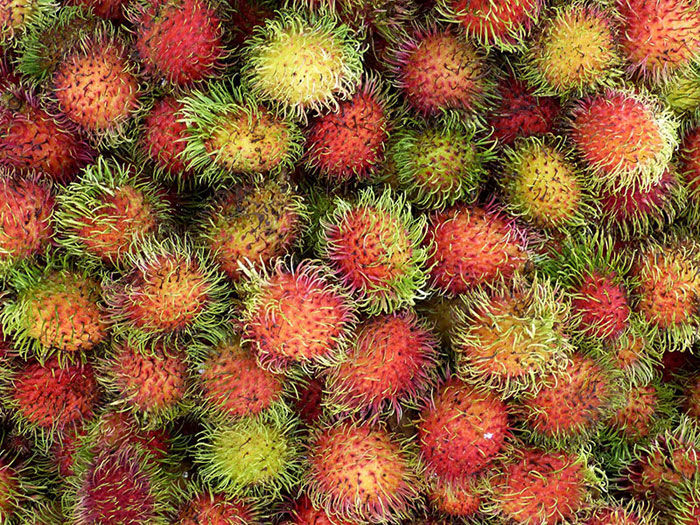 Growing Rambutan tree
Rambutan is a tree which does not require much attention. But some basic things that you should know are.
Temperature
it cannot thrive in cold areas below 10° C. it needs a temperature above 20° C – 30° C sometimes below 50°C will work for it. Rambutan is native to Southeast Asia. It grows mostly in warm areas like Thailand, Malaysia, Indonesia, Florida, Sri-Lanka and other warm areas. Since this tree is native to warm areas, therefore it cannot bare temperature below 10°C. This tree thrives in a temperature of 20-30° C and above. It cultivates largely in areas near the equator and areas above sea level. Read more.
Soil
It grows best in the loamy soil which is ideal for growing any type of plants. As it contains an appropriate amount of clay, silt, water, and hummus. Though this type of soil is hard to find if you want to know about the preparation of this ideal soil, don't worry you can grow this tree in Clay soil also.
Weather condition
In order to grow rambutan, you need to take care of its water intake. Make sure it has proper drainage and water doesn't stay in its roots for a longer time.
How to grow Rambutan in containers
Not everyone lives in warm climates if you live in cold climates and still want to enjoy eating this fruit. Then don't worry we have a solution for that also. Big trees are difficult to grow in the greenhouse as this can reach to a height of 20 M. so if you have a greenhouse and want to grow rambutan all you have to do is take a slightly bigger pot and place some soil and dried leave into it. Since the soil in the pot cannot mix naturally and get manures naturally you will have to prepare the soil after few days click here to know more about Rambutan.
Rambutan care tips
It is suggested not to use any pesticides on trees as it can affect the fruit quality and its nutrients. Points you need to take care while growing any tree to make it healthy:
Do not allow not biodegradable waste near any tree.
If you want to dump biodegradable waste make a deep pit slightly away from the area of the reach of tree's roots dump the waste and cover it with dry leaves and then cover it completely with soil.
Water the tree regularly and let it grow under natural conditions.
If necessary use pesticides that are mild only two times in the entire cultivation time i.e. one at the early stage when it starts blooming and others when it starts budding fruits.
If you are allowing the tree to grow naturally under suitable weather conditions it reduces the risk of plants getting any diseases.
This was all about growing rambutan hope you liked our post.

Read more.
HOW YOU CAN IMPLEMENT THIS FRUIT IN YOUR DIET. Read.
Thank you and happy gardening.
To remind you of my growing tips, pin this image on Pinterest one of your gardening boards.
Read also: How to grow Kiwano horned melon fruit. How to grow Kiwi fruit. Growing Anthurium plants in containers. How to grow Mulberry in containers. Growing and caring Cantaloupe in containers. Pansy flowers growing and caring tips. Sabudana Vada recipe. Soybeans growing and caring tips.  House plants care tips. The best Filler plants for Container Gardening.  Ivy gourd growing and caring guide. Lotus flower growing in containers. Cucumber growing in containers.
Pin it.