Manchurian
Know How to make veg Manchurian, Manchurian recipe, then read the following article.  The cold season is to eat and drink and make health, this time the whole season is full of green vegetables, at this time include those foods which have an abundance of green vegetables. In this post we are telling you about the Chinese healthy food Manchurian, it is very tasty and spicy.
You can make this Chinese food very easily in your home, with this meal you can make your evening special in front of the guests. It is very much like today in Indian street food. Manchurian balls immersed in the spicy gravy of Cornflour are well-liked. Nature Bring is sharing you a very easy method, which you can make it in the house.


Serve                     06

Preparation  time  50  minutes
Cooking time        10 minutes
Ingredients for Manchurian balls
Fine flour                                                               1/3 cups
Corn flour                                                              2 Tbsp
Finely chopped bell pepper                              1/2 cup
Grate Carrot                                                          3/4 cups
Grate cabbage                                                     3/4 cups
Black pepper                                                        1/4 Tsp
Ajinomoto                                                             1 pinch
Oil                                                                           for frying Manchurian balls
Salt                                                                         As needed
Ingredients for the Manchurian gravy
Corn flour                                                              2Tbsp
Ginger                                                                    2  inches (Grate it)
Green chilies                                                        2-4 finely Chopped
Spring onion                                                         1/4 cup
Garlic                                                                     5-6 cloves, finely Chopped
Soya sauce                                                           2 Tbsp
Chili sauce                                                            1/2 Tbsp
Tomato sauce                                                      2 Tbsp
Water                                                                     2 cups
Salt                                                                         As needed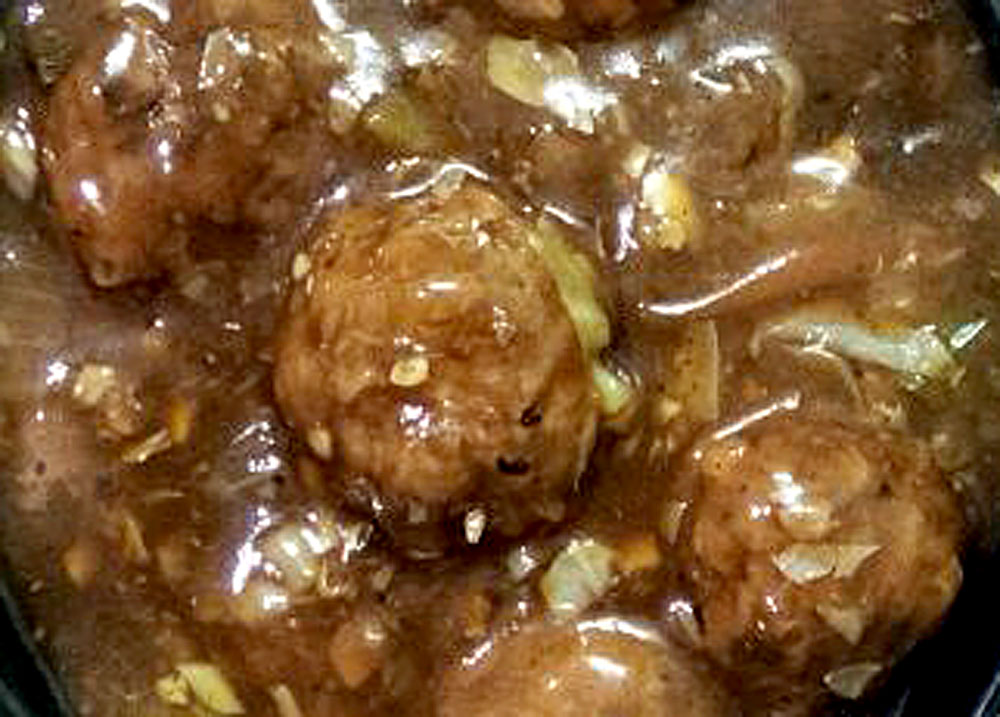 Method of making veg Manchurian balls
Take cornflour in a large bowl, according to the volume mentioned above. Mix this black pepper powder, salt, a pinch of Ajinomoto well in this bowl.
Then combine grated carrots, grated cauliflower, finely chopped capsicum (bell peppers), chopped green chilies and a spoonful of oil.
This mixture gets wet due to water in the vegetables. If there is a shortage of water, then sprinkle a little water above the required amount. Mix the ingredients well. When mixed, make small balls with the help of palms. Similarly, make all-round balls.
Keep the flame of the gas moderate, because of the high flame Manchurian balls will remain raw from inside. Slowly add 4-5 balls of oil and deep fry it. When brown on one side,  turn it over and fry it so that the balls are well fried on both sides.
Put the paper napkins on a plate and keep all the fried balls. Placing in the paper napkin will remove its extra oil.
Your Manchurian Balls are ready.
How to make  Manchurian Gravy 
To make Manchurian's gravy, take the cornflour according to the above-mentioned amount and dilute it well with water.

Heat the oil in a pan, and add peas according to the above-mentioned quantity. Then add finely chopped ginger, garlic, chopped green chilies, chopped green onion and fry it. Then add 2 tablespoons soya sauce, 1/2 teaspoon chili sauce and 2 tablespoons tomato sauce, fry it for about 1 to 1.5 minutes.

Then add the black pepper powder and salt in it, add 2 cups water. Cook it for about 1-2 minutes.
 When it starts boiling. Mix the dissolved cornflour in it and cook for about 1 minute in a low flame.
Then add fried Manchurian balls gradually and let it cook for 3-4 minutes.
Tips
There is no need to pour water into the mixture of vegetables because the water released from the vegetables is enough to make Manchurian balls. And despite this, if the water is low, then you can add some water.
Keep the gravy thin in the beginning, because after cooking it will thicken itself.
We have used Ajinomoto to develop Chinese tests. If this is not available then you can make Manchurian without it.
See also: How to make Chili paneer at home. Hot and Spicy Schezwan chutney. Chicken curry recipe at home. Palak Paneer recipe easy method. Veg Mayonnaise Sandwich Recipe easy steps.  Growing Black Pepper at home. Pizza recipe easy steps. Tomato ketchup recipe step by step. Spicy Momos recipe easy steps. How to make Spring Roll.
For pin: