Health Benefits of Papaya
Papaya fruit benefits, Health Benefits of Papaya and its nutrients, and more about this plant. Papaw is an incredible fruit rich in antioxidant and nutritional properties, cultivated in tropical regions. This surprisingly reduces inflammation and enhances the ability to combat illness. Continuous use of it helps you to look younger.  Know about Health Benefits of Papaya in this article.
Papaya is tall like a papaw tree or plant Carica papaya.  22 species of accepting a Carica papaya Caricaceae family.
Papaya plant
Papaya is a large plant with a single stem growing from 5 to 10 meters (16 to 33 ft) with spirally arranged leaves confined to the top of the trunk. It is a spherical, oval fruit that can grow up to 20 inches in length.
The fruit, as well as the other parts of the papaya tree, contain papain, also known as papaya proteinase I, an enzyme that helps digest proteins.
This enzyme is especially concentrated in the fruit when it is unripe. It is extracted to make digestive enzyme dietary supplements and is also used as an ingredient in some chewing gums. Inside the Papaya fruit, there is orange color pulp and black seeds grouped in the central hollow space. It is native to the tropics of Central America and Southern Mexico.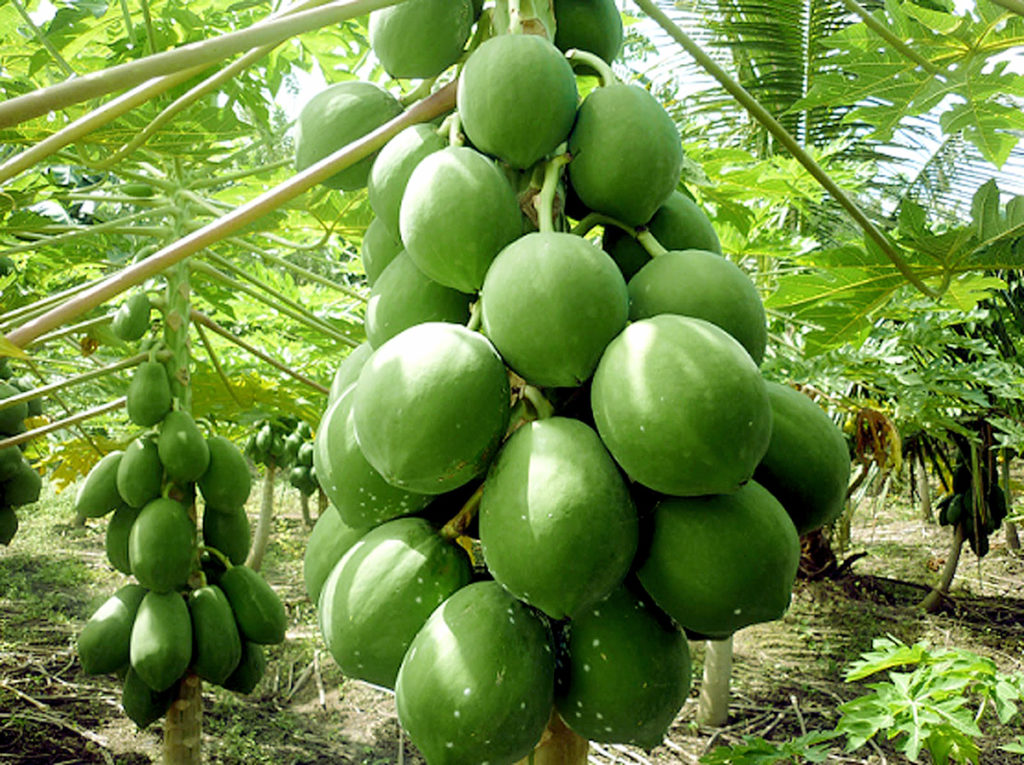 Health Benefits of Papaya fruit
This fruit is rich in many nutritional properties.  let us know about the Health Benefits of Papaya.
Nutrients in papaya are known to protect against cardiovascular disease, especially the type of heart disease that is a complication of both diabetes and the build-up of plaque in the arteries.
Papaya is rich in vitamins C and A, folate, magnesium, potassium, copper, fiber, and c acid (also known as vitamin B5). This is very helpful for our body growth and protects us from various diseases. Its fiber is able to bind to cancer-causing toxins in the colon, which keeps them away from the healthy colon cells. In addition, the papaya's beta-carotene, folate, vitamin C, and vitamin E have been associated with a reduced risk of colon cancer.
Famous Italian explorer Christopher Columbus called it "fruit of the angels" because of its delicious taste. Although there is a slight seasonal peak in early summer and fall, papaya trees produce fruit year-round.
Papain is not the only beneficial enzyme found in papaya and it doesn't just aid in digestion. This enzyme and another called chymopapain play vital roles in reducing inflammation and healing burns.
Papaya fruit can prevent cholesterol from adhering to the inner walls of arteries and rendering them inflexible or too narrow for healthy circulation.
Photochemical present in papaya can help maintain better eyesight longer in older people.

Read more.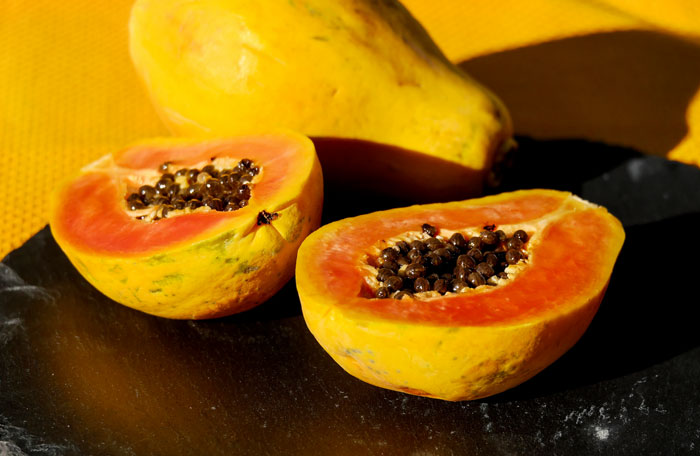 Papaya nutrition value chart.
Antioxidants
Carbohydrates 22.4 g
Sugar 11.2 g
Fat 0.7g
Dietary fiber 2.2g
Protein 2.2g
Water 72.9 g
Thiamine
Riboflavin
Vitamin E,C,K
Calcium
Iron
Potassium
Magnesium
Manganese
Phosphorous
Sodium
Zinc
Water
Now let us have a look at some benefits from all these minerals and vitamins.  Read more.
Propagation of Papaya fruit
To grow good papayas you need a frost-free climate
This plant requires very sunny, a lot of water, and very fertile soil.
Take fresh seeds from papaya and then wash with water
At least ready 100 seeds for a garden or if you want to grow in a container ready 30 seeds.
Plant seeds outdoors in large hills (12 inches high) and at least six feet apart in rows (at least 12 feet apart). Make quarter- to half-inch holes in the middle of each hill and fill with water. Put 10 seeds in the middle of each hill and tamp the soil firmly over them. If planting in containers, plant at least seven seeds in the middle of each, water them well, and place them in a warm location.
Thin seedlings to the strongest seedling per pot or outdoor space when they are six inches high and water them with a phosphorous fertilizer solution. Carefully transplant the seedling to larger containers if you are growing them indoors.
Ensure seedlings have adequate light, warmth, consistent water (but not waterlogged), and shelter from wind during growth, whether they are outdoors or inside. Provide heat and bright light for 12 to 16 hours per day for the best growth. Papayas are heavy feeders and require frequent fertilizing during the growing season to produce fruit. Plants flower in about three months.
Read also: How to grow Garden Phlox.  kaffir Lily growing and caring. How to grow Ridge Gourd at home. Growing an Avocado tree at home. 8 Common Gardening Mistake easily avoided. Night Blooming flowers. Peppercorn plant growing and caring.  8 Best Frugal gardening tips. Fuchsia plant growing and caring. Turnips planting and care guide.
Happy gardening.
For Pin: