Blue flowers
Learn Best Blue flowers, How to grow Blue flowers, Growing Blue flowers. There are lots of Blue flowers for garden beds, and planting in containers. Here we are telling about the beautiful blue flowers with their growing tips. We are telling you 8 better options for your convenience.  These are Blue daze evergreen blue flowers, Blue Hydrangea, Morning Glory, Salvias, A cool theme for your summer garden Clematis, Clitoria ternatea (Butterfly pea), Love in a Mist Plant (Nigella), Cornflower (Classic Fantastic) best blue flower.
Blue flowers have different attractions in the garden. In the spring, along with yellow flowers, cool realization in summer and splendid color combination are the attractions of your garden. Today you will add the blue flowers in your summer garden, there are so many blue flowers that are growing, make some flower beds, some grow in trees and vine and some clumps.
Some elegant flowers like delphiniums and lupins, Salvia and Hydrangeas, Morning Glory, Clematis, Clitoria ternatea, etc.  There is a lot of flower list to plant in summer, autumn, winter, and spring, however, the flower season may overlap but you choose the flowers you like to see and your garden knows their growing needs and create a blue garden.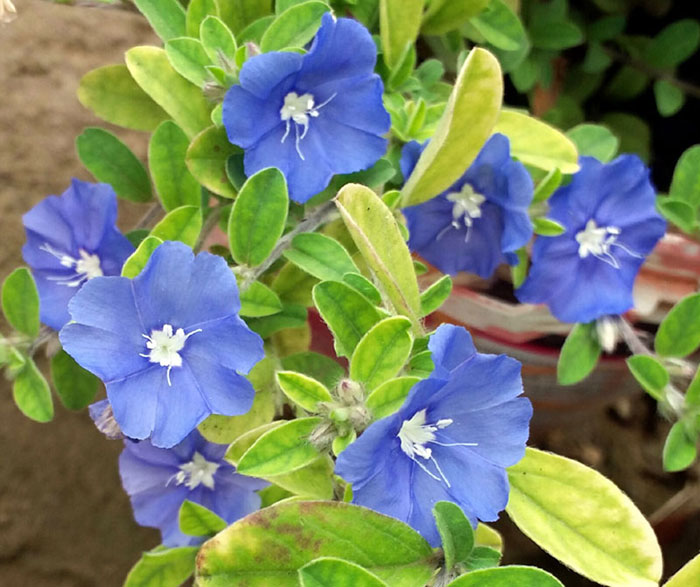 Blue daze evergreen Blue flowers
Blue Daze (EvolvulusGlomeratus) is the evergreen growing plants member of the morning glory family. Its blue-colored flowers and Olive Green Leaves are perfectly suitable for borders or containers and they bloom in the summers for a long time, its blue flowers bloom in the morning and die in the evening. Blue daze plants require less supervision. They are native to Brazil and Paraguay, which grow very well in USDA zones 8-11. These plants prefer the presence of the full sun, and yet they tolerate the shade of the afternoon, but in very shady places flowers are reduced. Plants are suitable for borders, hanging baskets and containers. Well-drained, moisture, the soil is good for blue daze. Planting it in wet soil leads to fungal disease and eventually dies of the plant. See for more info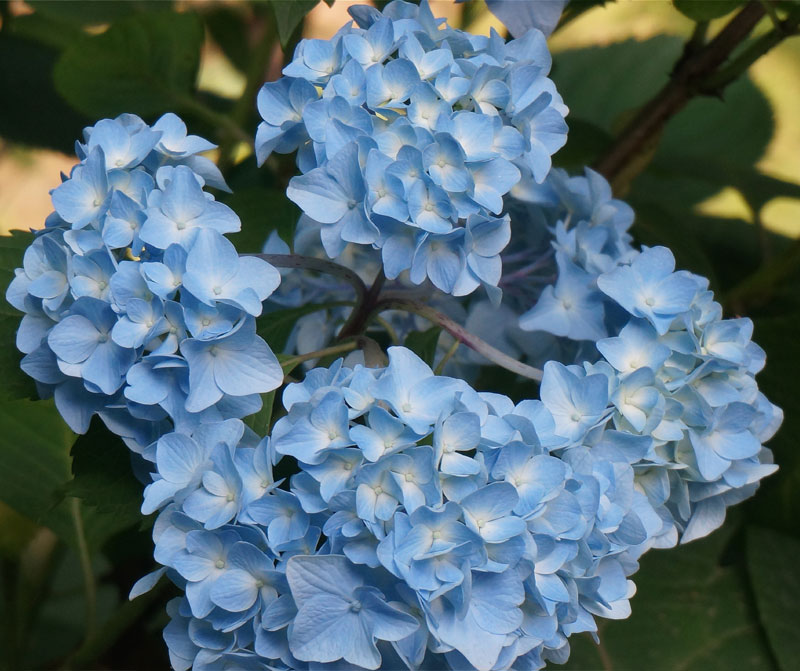 Blue Hydrangea
The Hydrangea is native to southern and eastern Asia and the United States, Hydrangea is a genus of 70–75 species of flowering plants native to southern and eastern Asia and the Americas. By far the greatest species diversity is in eastern Asia, notably China, Japan, and Korea. There are many types of hydrangeas flowers, mostly grown in full sunlight and some are particle shadows. Use fertilizer before planting, which will affect both plant health and blossom. Hydrangea flowers are very attractive and suitable for your garden. By increasing the acidity of clay you can get Sky Blue hydrangeas from bigleaf hydrangeas.  Hydrangeas can be shy bloomers if you want to increase the flowers, then after flowering, do pruning, and look for a species that gives you endless Blue flowers in summer. Read more.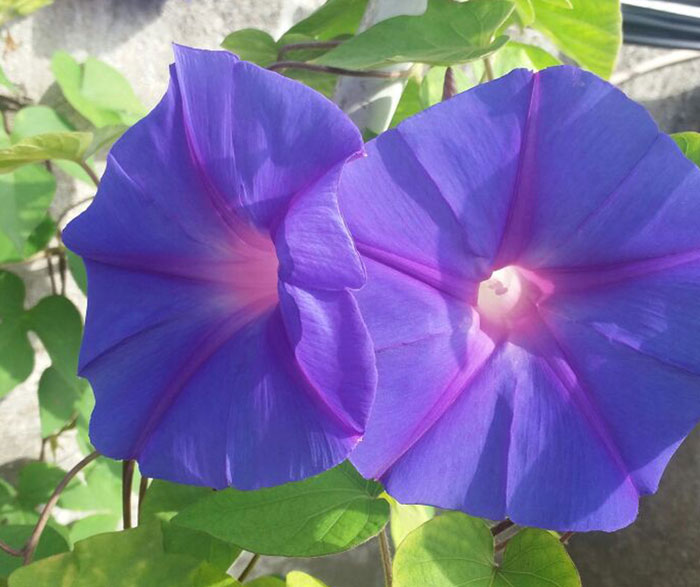 Morning Glory
These are annual flowering vines, which grow very fast. These are the same sweet Potato 's botanical family, but they do not produce tubers. Morning Glorious is the annual climber, its stems are thin, the flowers of Morning Glorious are shaped like a trumpet,  which blooms in red, pink, white, magenta and blue flowers. In warmer areas, people put it in arch or pergola, or to cover the ground.  Its flowers slightly fragrance, butterflies, and hummingbirds are attracted to these flowers. These creepers are sticking to the trees. Its heart-shaped leaves are bright green and buds are hard and unfolded in the morning, which blooms when finding in the sunshine. Morning Glorious Vines length in 5 to 15 feet and this self-seed can also be easily done. It's blooming begins early summer to the first frost.  Read more.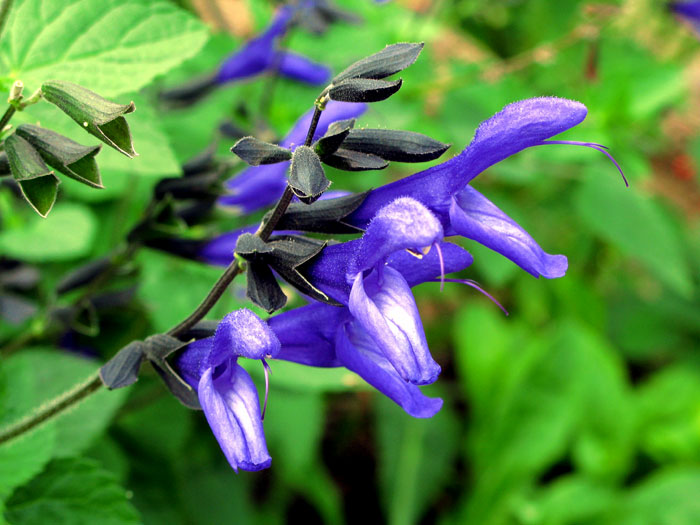 Salvias
There is a large group of Salvias, it contains annual, biennial, and perennial shrubs. Its other common name is safe. This attracts the charm of your garden borders in Midsummer. Most gardeners grow Salvia to the charm of your garden due to the brilliant red spiky blooms in summer and autumn. Famous Salvia is the culinary herb sage, with the bright brown-green leaves. Well, known salvias, such as S. Leucantha, the warm and arid climate is residents of California and the Mediterranean region and flourish very well in low water gardens. Read more.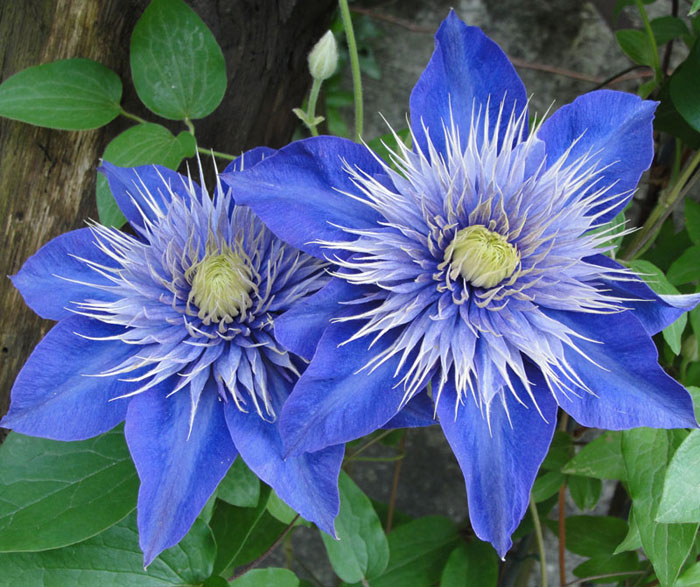 A cool theme for your summer garden Clematis 
Clematis is a genus of about 300 species within the buttercup family Ranunculaceae. Their garden hybrids have been popular among gardens beginning with clematis. They are mainly of Chinese and Japanese origin. Most species are known as clematis in English while some are also known as traveler's joy.
This popular vine is a beautiful flowering vine, its range of flower colors is very large, with purple, blue, pink, white, red, and bi-color. It likes bright sun. It tastes bitter. When pets ingest it, they vomit and may also suffer from diarrhea. It contains irritating glycosides content. At least 6 hours of sunlight is necessary for it to bloom. A 2-inch layer of mulch can be incorporated to keep the roots cool and moist. Its species are smaller with a height of 2 to 5 feet. For larger types, its Arbors variety can be grown. Its height is between 8 and 12 feet. Read more.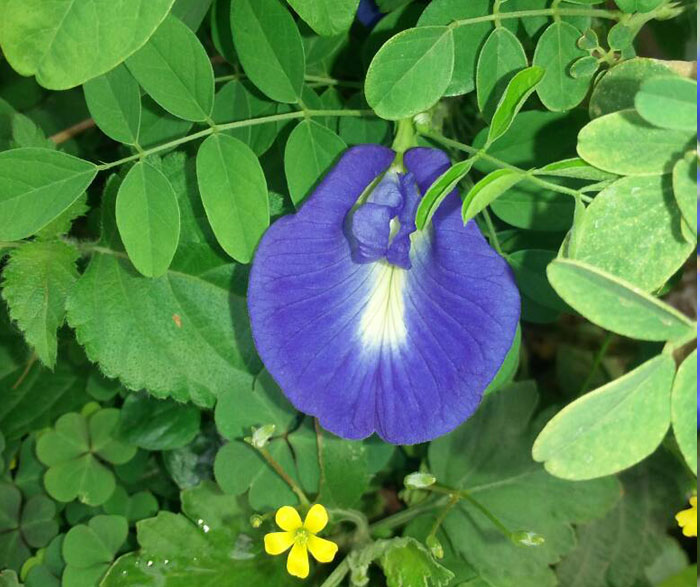 Clitoria ternatea (Butterfly pea)
It is also known as Butterfly Pea and Aparajita. Clitoria ternatea consists of a fast growing climber. Its common tender species are perennial, which produces 2-inch long flowers, and its vine can go up to 9 feet in height. Its blue, white and pink flowers enhance the beauty of the garden in summer. This is a herbaceous plant, which is used in swelling and pain; its flowers are a favorite food for butterflies. Aparajitais hardy for USDA zone 10-11, but these are fast growers so that they are often grown annually in cold areas.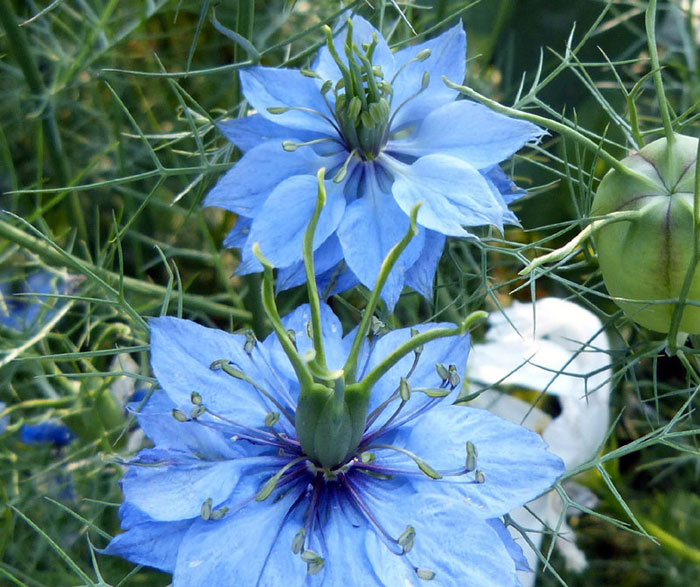 Love in a Mist Plant (Nigella)
Nigella plant is known to be loved in a mist plant. It is believed that in the obscenity.  It is easy to take care of love and in such a way it is interestingly blooming. This is an unusual annual garden flower plant, which is related to Buttercup family Ranunculus. In fact, it is native to Southern Europe, North Africa, and Southwestern Asia. Its delicate green leaves look like asparagus, these flowers bloom from spring to early summer and disappear in the hot summer. Love in a Mist, or Nigella, comes in soft colors of white, blue and pink. These are popular plants of large bed plants and hanging baskets.  Read more.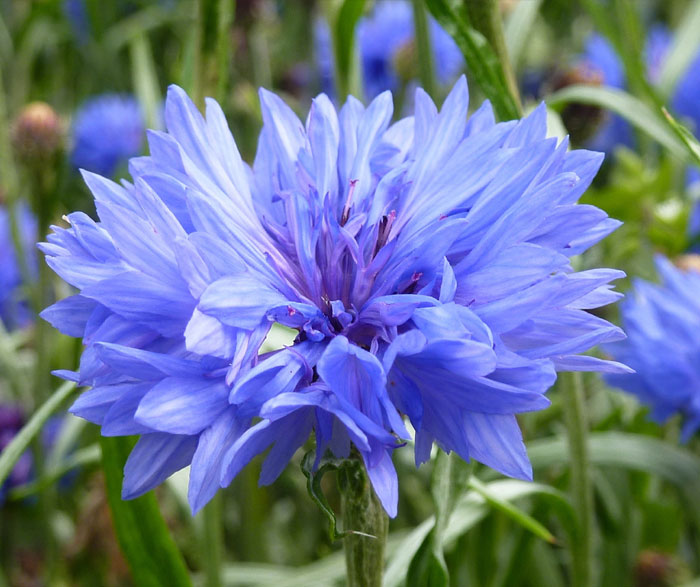 Cornflower (Classic Fantastic) best Blue flower
Cornflower "Classic Fantastic" is a wonderful mix of light blue colors to dark blue colors.
Its flowers are often in two blue colors and there are dark petals in the center, this the best option to cool touch your blue garden. The proper time for planting from late summer to late winter, when you sow them directly in the ground. Cornflower plants prefer full sun or choose a place where the sun lasts for a long time.  Read.
Must see: How to grow Crossandra flower. 8 Frugal Gardening tips.  Growing Anthurium plant indoors. Pansy flowers growing and care guide.  Impatiens growing and caring guide.  Cornflowers growing and caring guide.  Gerbera daisies growing and caring guide.  Colchicum growing and caring tips.  Best flowers for Bees and Butterfly garden. Lily growing and caring tips. Rosemary growing and care.
For Pin: