Rasmalai
Learn How to make Indian dessert Rasmalai at home, Rasmalai recipe, How to make Sponge cheese and more about this recipe. Rasmalai is the most liked desserts among the Indians. I love Rsamalai very much, because of this I will make it in my own house. It is popular and is most liked in West Bengal. In this, sponge cheese (chhena) rounded balls are prepared with saffron thick milk (rabri). Nature Bring is telling you to make cheese and Rasmalai at home. If you want to make Rasmalai fast, then use ready-made rasgulla, made very easily by making rabri. This will take you less time. This is a royal dessert, which often makes Indians in marriage and big festivals.

Preparation time                 15 minutes
Cooking time                        45 minutes

Cuisine                                  West Bengal
Serve                                     6 people
Ingredients for the sponge cheese, Chhena balls
Milk                                        1 liter
Lemon juice or vinegar      2 tbsp
Sugar                                     1.5 cups
Water                                            4cups
Ingredients for Rabri
Milk                                        1 liter
Pistachio chopped               2-3 tbsp
Cardamom powder              1/4 tsp
Saffron                                           1/2 Tsp
How to make Sponge Cheese
Ingredients for the sponge cheese, Chhena balls
Milk                                        1 liter
Lemon juice or vinegar      2 tbsp
Sugar                                     1.5 cups
Water                                            4cups
How to make a Cheese (Chhena)
To make the sponge, cheese, first take 1-liter milk in a heavy surface pan and boil it. When milk is boiled, turn off the stove, let the milk cool. If you want to cool early, then add 1/2 cup cold water to it. After waiting for 10 minutes, add lemon juice or vinegar as per the above-mentioned amount.
*Use full cream milk to make Rsamalai, it will give you a good result.
Put a malmal cloth or cotton cloth on the large sieve, turn the torn milk in it, When the whole water drains out, it squeezes it well, but some moisture remains. If the whole water drains out, it will become dry and the Rsamalai balls will not become soft. Put two or three glasses of cold water on the ball or put it under the tap water. After adding cold water, the lemons will get rid of the lemon.
Leave chhena (paneer) for 10 to 15 minutes in the sieve. Then squeeze well with the palms.
Then hang it on the tap by binding a knot of this cloth, which will drain its excess water. Take it down after about 30 minutes. Spread this chenna on the plate. If it is too wet, then spread it into paper napkins.
Mash the chhena with the hand, keep mashing until the chhena sarts leave greasing. Then make the balls. Likewise, make the whole chisel balls.
How to make Sponge chhena balls
In this recipe, the round-ball is made from chhena, see our post to make chhena (Sponge cheese).

In a deep vessel, add 4 cups of water and 1.5 cups of sugar and boil in medium flame. When the sugar is mixed well and the water starts boiling, put the prepared cheese (chhena) balls into it one by one. Cover the vessel with the lid. Allow medium flame to boil for 5 minutes. Remove the lid and reverse all the balls one by one. After some time you will see that the size of the balls will be double.
Leave it for 1-2 hours to cool down.
Press each ball with two teaspoons to remove excess syrup.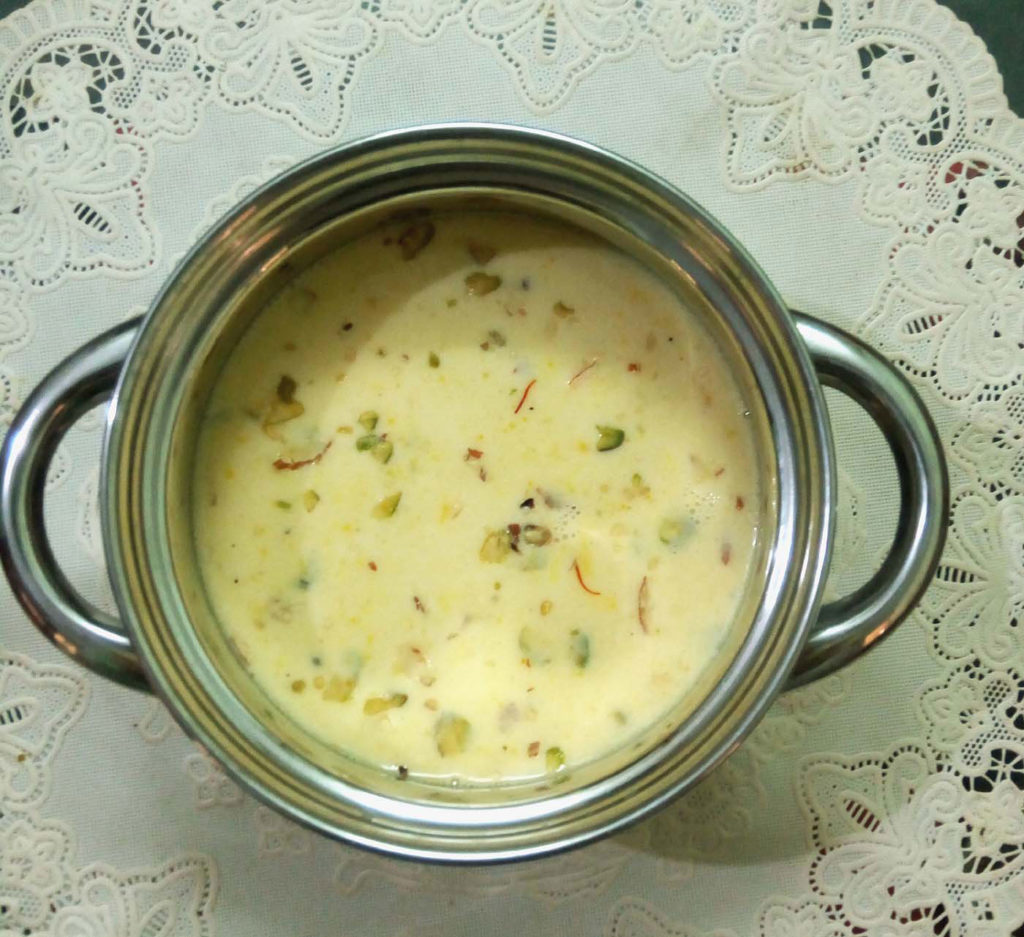 How to make Rabri (Thick milk)
Take 1 liter of full cream milk in a bowl and heat it in medium flame. When the milk starts boiling, reduce the flame. Then add 1 tsp spoon saffron in it.
Stir the milk continuously. Add sugar after 10 minutes and mix well. 20 -25 minutes later the milk starts to thicken. Then add finely chopped pistachios and cardamom powder into it.
Mix well and close the flame.
How to make Rasmalai
Put the balls in the rabri. Keep the bowl in the refrigerator and cool for 6-7 hours. After cooling, pour pistachios and saffron on top of it.
Take your Rsamalai is ready. You can enjoy it.
*Keep in mind when adding the balls to the rabdi, the milk should be warm and leave it to cool at room temperature.
Tips
Use cow's milk to make chhena (paneer), rasmalai will become soft.
Keep some moisture in the chhena, do not squeeze it completely.
You can mix khoya to thick rabri.
Read more: Vegetable Biryani recipe.  Chicken curry recipe. How to make Tomato Ketchup. Paneer Pasanda recipe. How to make Bhindi gravy masala. Kaju katli recipe at home. Til Gajak recipe at home.
For Pin: