Sambar Vada (Medu Vada)
Learn How to make Sambar Vada easy steps, Sambar Vada recipe, Medu Vada in this article. It is a famous food for South Indians, but nowadays it is eaten all over the world, not in India. In many places, it is also called Medu Vada. When the hot Sambar Vada comes in front of you, you cannot stop yourself. It is not delicious and its smelling attracts everybody. When holiday happens,  We all want to get some nice breakfast, many people go to restaurants for South Indian food. But it is very expensive and it does not make us too calming. Sambar Vada is made in combination with urad dal or moong lentils. Making Sambar Vara is very easy, Nature Bring is sharing you a very easy method, which you can make it in the house. Read also.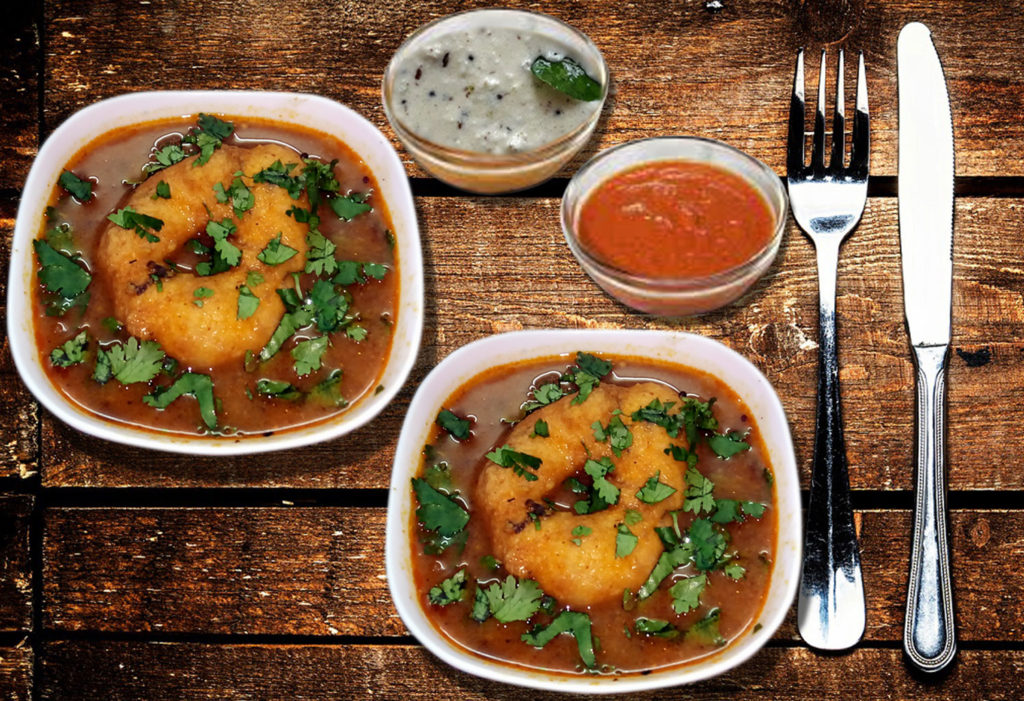 Serve                     06

Preparation  time  04 Hours
Cooking time        45 minutes
Ingredients for Sambhar
For cooking lentils:
Arhar dal, (Tuvar dal)                                       100 grams
Masoor Dal                                                           100 grams
Water                                                                     1/2 litter
Turmeric powder                                                 1/4 Tsp
Whole Red chilly                                                  2-3
Ingredients for Vada
Urad Dal                (lentils)                                  250 grams
Moong dal/ channa dal (Chickpea lentil)       50grams
Cumin seeds                                                         02 medium finely  chopped
Green chilies                                                         2-4 finely Chopped
Ginger                                                                    2  inches (Grate it)
Green coriander leaf                                           1 Tsp chopped
Curry leaf                                                              1Tsp chopped
Salt                                                                         As needed
Oil                                                                           for frying Vada
Other Ingredients:
Bringals'                                                                100 gram
Carrot                                                                    1 medium
Tomatoes                                                              4 medium size chopped
Louki (Bottle gourd)                                          100 gram
Onion                                                                    1 big size
Ginger chopped                                                  1 Tsp
Garlic                                                                    2-3 cloves (chopped)
Samber masala                                                   2tsp
Salt                                                                        As needed
Ingredients for tempering
Curry leaf                                                             2Tsp chopped
Mustard seeds                                                    1/2 tsp
Oil                                                                         2 tbsp
Preparation for Sambhar
Cut all the vegetables finely and put them in a separate vessel.
Put the tamarind in a bowl in hot water leave for a while.
Sambar Recipe
First, put Urad Dal in a cooker, add water, salt and one fourth spoon turmeric powder as needed, put it on the gas.
After cooking for 2 minutes and add all vegetables. After adding the vegetables, place the cooker on a whistle at the gas.
Turn off the gas. Open the lid of the cooker after a little cool, and mix the tamarind pulp and sambar powder in the cooker and let it cook for a while if the Sambar mace is mixed with some water. Keep stirring it in between, otherwise, it is stuck on its surface.
Close the lid of the cooker and let it cook for some time. Take the cooker out of the gas stove and keep it aside.
Tempering the sambar
Heat oil in a pan. When the oil becomes hot, add mustard seeds, When mustard seeds are brown, then add red chili powder and curry leaves. Then add the chopped onions, ginger garlic paste and chopped tomatoes in it. Now add a small spoon of Sambar masala and fry for a while.
After the pressure of the cooker is over, open the lid, put it in the pan. Cook Sambar for 3 to 4 minutes. After cooking, pour the sambar in a large container and garnish the chopped coriander leaves. Take your sambar is ready.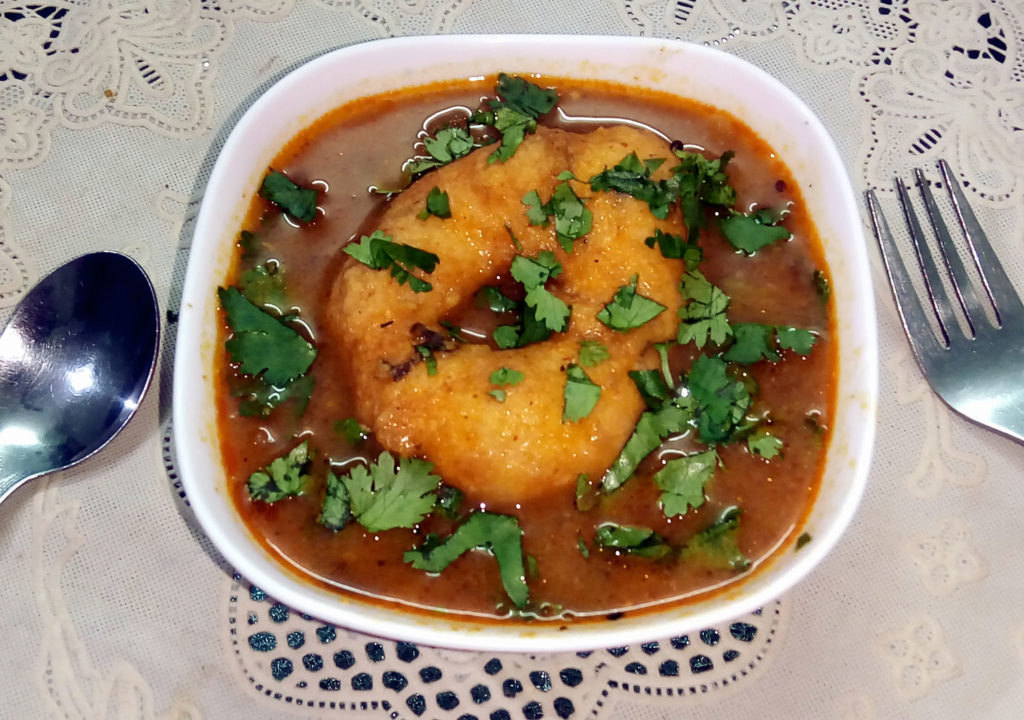 How to make Sambar Vada
Wash urad dal (lentils) well with water. Soak in water for the whole night or at least 4-5 hours.
Separate the water of lentils (dal) in the morning and wash thoroughly with clean water.
Grind lentil (dal) with the help of mixer grinder, if needed, can also lighten the water. Keep in mind that the water should remain low. Do not grind too much finely.
If the quantity of water is high, add some quantity of semolina or urad dal flour in it.
Ginger grated, cumin seeds, finely chopped coriander, green coriander and salt as needed, ferment better. As good as a ferment, Vada equally will be soft.
Grab the prepared mixture into a round shape with the help of palms. You can also use plastic sheets or banana leaves for them.
Take the appropriate amount of oil and heat it in medium flame for frying. Put the vada in the palm, crater the middle of the other hand, then put it in hot oil, Put 3-4 vada in the pan as well, after frying it properly (when brown starts appearing), turn it on the other side. Similarly, separate all the vada by frying them.
Place the fried vada in the keychain tissue paper, so that any excess oil can get out.
Before eating, put all the Vada in a hot sambar, serve it with coconut sauce and hot red sauce.
Coconut Sauce (chutney)
Ingredients for chutney
Raw  coconut                                                        100grams
Curry leaf                                                              1Tsp chopped
Mustard seeds                                                     1/2 tsp
Curd                                                                       1/2 cup
Salt                                                                         As needed
Oil                                                                           1 Tbsp
Coconut chutney recipe
To make coconut sauce, take raw coconut 100grams, green coriander, green chili, curd 1/2 cup, and salt according to taste.
Grind raw coconut, green coriander, green chili, salt, curd and 1/2 cup water in a mixer jar and grind them all in a fine. Take the chutney in the pot and mix the water according to the thickness of it.
Heat 1 tablespoon oil in a small pan, when the oil becomes hot, then add 1/2 Tsp mustard seed in it, when the mustard seeds begin to crack, turn off the gas by adding a curry leaf. Then put the prepared chutney in the pot. Coconut chutney is ready, eat it with dosa, sambar vada or idli.
Read also: Masala Dosa recipe. Easy Vada pav recipe at home. Palak Paneer recipe easy method. Idli recipe in a pressure cooker. chicken curry recipe easy steps. Veg Mayonnaise Sandwich Recipe easy steps. Mango pickle easy recipe. Pani puri recipe easy at home. Pizza recipe at home.   Sabudana Vada recipe for fasting. How to Curry Leaves in containers. Khaman Dhokla recipe for your breakfast. Vegetable Biryani recipe Dhaba style.  How to make Shahi Paneer.
for Pin: